Trimble Yuma Display Cleaning Cloth
The Trimble display cleaning cloth is ideal for maintaining and extending the life of your Trimble Yuma screen.
Features
Soft microfiber weave cleans the Trimble Yuma's display without scratching the surface
Perfect for removing dust, film, or dirt
Nearly 10" in length, providing plenty of cloth to use again and again
Usually ships in 3-5 days
Image
Part#
Product Description
Price
Stock
Order
ACCAA-353
Yuma display cleaning cloth

Usually ships in 3-5 days
Rinse off mud and grit with running water, blot dry, then remove any remaining fingerprints, smudges or dust from your display with this display cleaning microfiber cloth. If soiled, simply wash. Reuse when dry.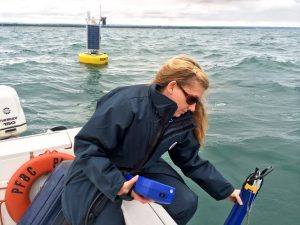 Since its population bottomed out, the federally-endangered Piping Plover in the Great Lakes has made a comeback for the ages. 
 
 A population that once measured approximately 17 pairs and rebounded, hitting 76 pairs in 2017. The same year that count was made, the plovers had also returned to Gull Point, a nesting location that hadn't been used in more than 60 years. 
 
 In an effort to understand some of the conditions that have allowed this species to return to its habitat, researchers have directed their attention toward a curious instrument for help. 
 
 A buoy that floats off the coast of Presque Isle State Park , near where Gull Point is located.
Read More