The YOUNG 41003 Radiation Shield (universal adapter) protects temperature and/or RH sensors from error-producing solar radiation and precipitation.
Features
Multiple disc radiation shield
Blocks direct & reflected solar radiation
Permits easy passage of air
Stock
Drop Ships From

Manufacturer
Fondriest Exclusives
Expedited repair and warranty service
Lifetime technical support
The RM Young 41003 Multi-Plate Radiation Shield protects temperature and relative humidity sensors from error-producing solar radiation and precipitation. Its compact size and light weight make this shield useful for many applications.

The multiple discs have a unique profile that blocks direct and reflected solar radiation, yet permits easy passage of air. The disc material is specially formulated for high reflectivity, low thermal conductivity, and maximum weather resistance. The rugged U-bolt mounting clamp attaches easily to any vertical pipe up to 2 inches diameter.

The Model 41003 employs a universal adapter to securely hold sensors up to 16mm diameter. The Model 41003P uses a special mounting adapter that can be custom sized to fit any sensor from 16mm to 26mm; specify the diameter when ordering.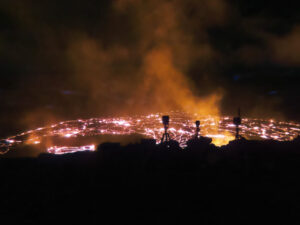 The eight main Hawaiian Islands are made up of 15 volcanoes, six of which are active as of 2023 . Many locals live on or near an active volcano, making the monitoring and understanding of volcanic activity a core issue of public safety on the islands. Organizations like the Hawaiian Volcano Observatory (HVO) have spent decades monitoring the islands' volcanoes to protect the public, develop a deeper understanding of the islands' volcanos and forecast eruptions whenever possible. 
 
Even those who live away from edifices like Mauna Loa often have connections to the people living near the volcano.
Read More