YSI 5908 DO Cap Membrane Kit
Membrane kit for YSI 550A, DO200, and Pro Series 2003 polarographic DO sensors. Can also be used on the 556.
Features
For use with sampling applications where DO speed of response is of most concern.
Can be used with the YSI 556, 550A, DO200 & Pro Series meters
Provides the fastest response time of 9 seconds and a flow dependence of about 25%
Fondriest Exclusives
Expedited repair and warranty service
Lifetime technical support
(6) 1.25 mil yellow cap membranes
(1) Bottle of electrolyte solution
(1) Sanding disk
(1) Instruction sheet
Questions & Answers
How often does the membrane on the 2003 polarographic dissolved oxygen sensor need to be replaced?
In order to maintain accurate readings, it is suggested to replace the membrane every 2-8 weeks, depending on use and storage conditions. The calibration guide (https://www.fondriest.com/pdf/YSI-Professional-Plus-Calibration-Tips.pdf) discusses how to properly maintain and calibrate electrochemical DO probes.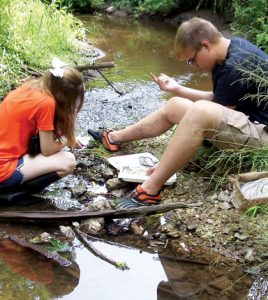 A group of high schoolers in the Green Bay, Wisc. area are learning about careers in environmental science thanks to the Lower Fox River Watershed Monitoring Program. The program, supported by the University of Wisconsin, has involved more than 700 students since its 2003 launch. 
 
"We have almost ten years of data," said Annette Pelegrin, program coordinator. "It began in 2003 with five watersheds. We've trained teachers and schools that are interested and showed them how to measure different parameters." 
 
Those include flow, temperature, transparency and turbidity of the program's streams. YSI 55 meters are used to measure dissolved oxygen and levels of phosphorus, ammonia and nitrogen are checked with a Hach colorimeter.
Read More