YSI 6136 Turbidity Sensor
The YSI 6136 Turbidity Sensor provides accurate, in-situ measurement of turbidity in fresh, brackish, and salt water, as well as other applications that require highly accurate turbidity data.
Features
Temperature compensation provides greater accuracy
Wiped optics field-proven for fouling prevention
Compatibility with all YSI optical port sondes provides system flexibility
Fondriest Exclusives
Expedited repair and warranty service
Lifetime technical support
Overview
The YSI 6136 Turbidity Probe is a fouling-resistant, wiped sensor designed to seamlessly integrate with all YSI sondes that contain an optical port using no external software. The YSI 6136 provides accurate, in situ measurement of turbidity in fresh, brackish, and salt water environments, as well as other applications requiring highly accurate turbidity data.

Pairable
The YSI 6136 sensor can be used in combination with YSI sondes that have optical ports - 600 OMS, 6820, 6920, 6600, or 6600 EDS (Extended Deployment System) - and a YSI 650 MDS handheld display-logger. Make surface as well as vertical profile measurements. In addition, the YSI 6136, in combination with one of the YSI data-logging sondes, can be used for unattended continuous monitoring or integrated with data collection platforms for real-time data acquisition.
Range: 0 to 1000 NTU
Resolution: 0.1 NTU
Accuracy: +/-2% of reading or 0.3 NTU, whichever is greater
Warranty: 2 years
Questions & Answers
Can I expect a turbidity drift if I plan to monitor for an extended period of time?
The probe optics for this sensor are very stable even over long periods of time. The long-term drifts are usually
I am experiencing a drift >3%, what can I be doing wrong?
The most common reason for turbidity drift is the use of contaminated standards. To avoid this, make sure to clean the probe, sonde bulkhead, and sonde guard before use. Also, place the sensor in clear water first and inspect the water for debris.
Should the sensor touch the bottom of the calibration cup?
No, there should be 2-3 inches between the head of the sensor and the bottom of the cup. If the sensor is touching or close to the bottom, it may reflect and cause incorrect readings.
If I deploy with a steel sonde weight, will this cause a reflection?
Yes, but only a slight reflection will occur. If concerned, a high quality flat black spray paint can be used to spray the internal surface of the sonde weight.
Can I manually activate the turbidity wiper?
If using a 650, highlight "clean optics" in the upper right logging box and press enter. If using with a computer, press the "3" key to activate the turbidity wiper.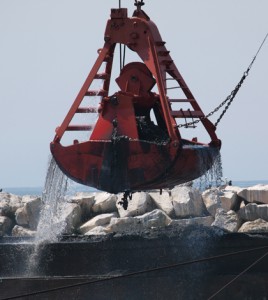 Researchers at Penn State University find that dredging projects may reduce fish diversity, according to a release. Dredging is usually undertaken to remove detrimental sediment from a waterway. 
 The investigators looked at 15 sites along the Allegheny River in Pennsylvania, comparing sections that had been dredged to undredged ones. They found reduced fish populations and less variety in aquatic life in areas where dredging occurred. 
The researchers say the dredging process increases turbidity, which alters fish-foraging ability. High sedimentation can also affect spawning, so species that are tolerant come to dominate ecosystems in which dredging took place. 
 
 Image: A clamshell dredge in action (Credit: U.S.
Read More