YSI 6155 Optical DO Membrane Kit
The YSI 6155 optical DO membrane kit is a replacement kit for the 6150 ROX optical dissolved oxygen sensor.
Features
YSI recommends that membrane is replaced annually
User-replaceable membrane with step-by-step instructions
Includes tool for replacing membrane
Fondriest Exclusives
Free ground shipping
Expedited repair and warranty service
Lifetime technical support
Note: All optical DO membranes are now manufactured from anti-fouling copper alloy; these membranes directly replace black plastic membranes. Anti-fouling membranes can be used on existing ROX probes with no detrimental effects on data. The copper-alloy YSI 6155 optical DO membrane may arrive with surface patina and/or discoloration. This will not affect membrane performance.
(1) YSI 6155 optical DO membrane
(3) Installation screws
(1) Hex wrench
(1) Instruction sheet with calibration coefficients
Questions & Answers
How do I replace the membrane?
The 6155 kit comes with everything required for installation. To replace the membrane, remove the old membrane and clean around the probe face. Make sure the surface under the membrane is clean and dry before replacing. After replacing the new membrane, power the sonde and enter the calibration constants (K numbers included with the membrane kit).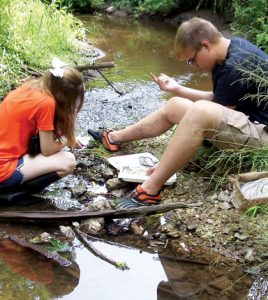 A group of high schoolers in the Green Bay, Wisc. area are learning about careers in environmental science thanks to the Lower Fox River Watershed Monitoring Program. The program, supported by the University of Wisconsin, has involved more than 700 students since its 2003 launch. 
 
"We have almost ten years of data," said Annette Pelegrin, program coordinator. "It began in 2003 with five watersheds. We've trained teachers and schools that are interested and showed them how to measure different parameters." 
 
Those include flow, temperature, transparency and turbidity of the program's streams. YSI 55 meters are used to measure dissolved oxygen and levels of phosphorus, ammonia and nitrogen are checked with a Hach colorimeter.
Read More