YSI 6884 Nitrate ISE Sensor
Add the YSI 6884 nitrate ISE sensor to a 6-series multi-parameter YSI instrument to complement daily sampling regimen.
Features
Freshwater use only
YSI 6884 best for sampling applications
Field-replaceable
Fondriest Exclusives
Expedited repair and warranty service
Lifetime technical support
Overview
The YSI 6884 nitrate ISE sensor consists of a silver/silver chloride wire electrode in a custom filling solution. The internal solution is separated from the sample medium by a polymer membrane, which selectively interacts with nitrate ions.

Mechanics
When the probe is immersed in water, a potential is established across the membrane that depends on the relative amounts of nitrate in the sample and the internal filling solution. This potential is read relative to the Ag/AgCl reference electrode of the sonde pH probe. As for all ISEs, the linear relationship between the logarithm of the nitrate activity (or concentration in dilute solution) and the observed voltage, as predicted by the Nernst equation, is the basis for the determination.
Range: 0 to 200 mg/L-N
Resolution: 0.001 to 1 mg/L-N (range dependent)
Accuracy: +/-10% of reading or 2 mg/L, whichever is greater
Warranty: 6 months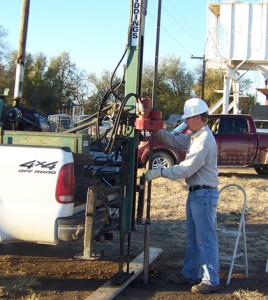 Kansas State University professors transformed a plot of land from a problem to a classroom, teaching students on the fly to remediate nutrient pollution. 
 Saugata Datta, an associate professor of geology, and Nathan Nelson, an associate professor of agronomy, taught students to evaluate, sample and remediate land using Kansas Department of Health and Environment protocols. 
 It started when Chris Steincamp, an environmental lawyer and KSU alumnus, asked Datta if his geology students could restore a tract of land in Sylvan Grove Kan. 
 Datta jumped at the opportunity to give his students hands-on experience in a process usually reserved for regulators and consultants. 
 It helped that O.C.
Read More