YSI EcoSense pH100A pH Meter
The YSI EcoSense pH100A meter can be used with a wide variety of cable assemblies, providing cost effective field or lab pH measurements.
Features
IP67 waterproof rating
50 data set reviewable memory
Comfortable, ergonomic design
Fondriest Exclusives
Free ground shipping
Expedited repair and warranty service
Lifetime technical support
The EcoSense line of compact, handheld instruments provides the most accurate data in the most affordable format. The instruments feature an easy-to-use interface, one-hand operation, IP67 waterproof case, and low cost of ownership over the life of the product. The pH100A measures pH, mV/ORP and temperature with the following features:


IP67 Waterproof housing
1-year instrument warranty
Internal buffer recognition (US or NIST buffer sets)
Auto/Manual temperature compensation
Electrode offset recognition
Low battery indicator with 1000 hour battery life
Displays electrode efficiency
Autolock mode holds stable readings on display
Auto shutoff function after 30 minutes of inactivity
50 data set memory

The pH100A is designed for quick, accurate results in an economical platform. The ability to measure pH, mV/ORP, and temperature in a simple, compact handheld allows the instrument to be used in multiple applications. With a one-year instrument warranty, six-month electrode warranty, calibration backup, and a variety of cable/sensor options (glass bulb, flat tipped, and piercing tipped), the pH100A will fit your needs.
(1) YSI EcoSense pH100A meter
(1) 9V alkaline battery
(1) Operations manual
Questions & Answers
Is this meter compatible with my Pro10 ISE cable assembly?
No. The Ecosense pH100A is only compatible with the YSI 100 pH/temperature, 110 pH, 111 pH, 112 pH, 115 ORP, and 130 temperature cable assemblies.
Will the Electrode Simulator calibrate any pH probe with my meter?
No. The electrode simulator is only used with the pH100A meter to confirm instrument calibration after calibrating the probe with the buffer solutions.
What does the AUTOLOCK feature do?
AUTOLOCK assists the user in determining precise and accurate pH and mV values by sensing the end point of a measurement, eliminating most errors.
Can I change the temperature reading to Fahrenheit?
No, the pH100A meter will only output temperature measurements in Celsius.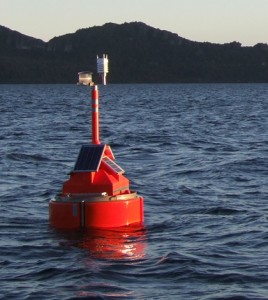 A new data buoy launched this year in New Zealand's Lake Rerewhakaaitu is providing scientists with insights into the polymictic lake's oxygen dynamics and water column production. Polymictic lakes turn over many times per year. 
 
The next-generation profiler is overseen by the Rotorua Te Arawa Lakes Programme and uses an automated winch to raise and lower sensors on a regular basis. 
 
"The winch allows us to use a single package of water quality instruments to measure multiple depths through the water column," said Chris McBride, technician at the University of Waikato who is helping the RTA Lakes Programme oversee the buoy.
Read More