YSI EcoSense pH10A pH Pen
The YSI EcoSense pH10A pH & Temperature Pen provides quick and accurate pH measurements
Features
IP-67 Waterproof housing
Replaceable single- or double-junction electrodes
Automatic calibration and buffer recognition
Fondriest Exclusives
Expedited repair and warranty service
Lifetime technical support
Overview
YSI's EcoSense pH10A pH & Temperature Pen is the perfect instrument for economical spot sampling of pH and temperature in applications such as wastewater, surface water, aquaculture, hydroponics, pools, and education. The pH10A pen features an easy-to-use graphic interface, simple one-hand operation, memory, and low cost of ownership over the life of the product.

Benefits
Waterproof IP-67

1-year warranty

Automatic calibration and buffer recognition

50-set memory (pH, temp, date and time stamp)

Replaceable single- or double-junction electrode

GLP functionality

1-, 2-, or 3-point calibration

Hold feature locks stable readings on the display

CE compliance


>200 hour battery life with low battery indicator
Operating Range: 0.0 to 50.0 C (32.0 to 122.0 F)
Water Resistance: IP-67 waterproof case
Weight with Batteries: 105 grams (3.7 ounces)
ATC Probe: Thermistor
Battery: Four LR44 alkalines included with purchase
Battery Life: Approximately 35 hours
pH Temp Compensation: Auto 0.0 to 99.9 C
pH Buffer Recognition: USA (4.01, 7.00, & 10.01) or NIST (4.01, 6.86, & 9.18)
pH Calibration Temp: 0.0 to 60 C (0.0 to 140.0 F)
pH Offset Recognition: +90 mV at pH 7.00 or +98.3 mV / -81.7 mV at pH 6.86
pH Slope Recognition: +30% at pH 4.00, 4.01, 9.18, or 10.01
Memory: Non-volatile; stores 50 sets (pH, temperature, date and time stamp)
(1) EcoSense pH10A pH & Temperature Pen
(4) A76 batteries
(1) Operations manual
Questions & Answers
What happens if I reach 50 recorded data sets?
If the memory on the EcoSense pH pen is full, the newest data set stored will overwrite the oldest saved data set.
How do I download the data?
Data from the YSI EcoSense pen cannot be directly downloaded. The 50 data set memory allows data storage within the device itself, and previous sets can be viewed with the "SCROLL" key. Exporting the data would need to be done manually.
Will the pen timestamp my data?
Yes, the EcoSense pH pen date and time stamps all data.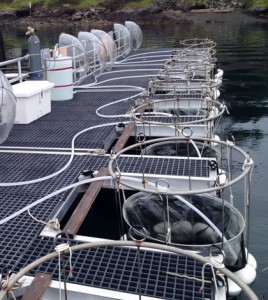 With oceans becoming more acidic worldwide, scientists are getting creative in designing experiments to study them. For example, one group at the University of Washington is using giant plastic bags to study ocean acidification. 
 Each bag holds about 3,000 liters of seawater and sits in a cylinder-like cage for stability. The group at UW, made up of professors and students, is controlling carbon dioxide levels in the bags over a nearly three-week period, during which they are looking at the effects of increased acidity on organisms living near the San Juan Islands. 
 "These mesocosms are a way to do a traditional experiment you might do in a lab or classroom," said Jim Murray, professor of oceanography at the University of Washington.
Read More