YSI ProSolo Digital Water Quality Meter
The YSI ProSolo is a non-consumptive DO meter (sensors sold separately) that does not require flow dependence or stirring for accurate DO reading.
Features
Connect any ProDIGITAL integrated probe/cable assembly (ODO/T, ODO/CT)
Long-life rechargeable lithium-ion battery that is user-replaceable
Data export directly to USB flash drive (included) or using KorDSS Software
Fondriest Exclusives
Free ground shipping
Expedited repair and warranty service
Lifetime technical support
Overview
Paired with the latest optical DO and temperature (ODO/T) probe (sold separately), the ProSolo benefits from years of expertise in cutting-edge dissolved oxygen technology. Featuring expanded measurement capabilities with ODO/T and ODO/CT probe options, the ProSolo is ideal for a variety of applications, including aquaculture, coastal, estuary, and wetland sampling.

ProDIGITAL Platform for Enhanced Versatility
Connect any ProDIGITAL integrated probe/cable assembly to the ProSolo to form a complete sampling system. Probe assemblies are user-replaceable with cable lengths ranging from 1- to 100-meters.

ODO Sensor Technology
Dissolved oxygen measurement technology has advanced from electrochemical sensors, such as polarographic and galvanic, to luminescent-based, optical sensors. YSI optical DO sensors are non-consumptive.

Advantages over electrochemical sensors include:
Higher accuracy with no stir dependence
Less drift over time; holds calibration longer
Less maintenance; no membranes or electrolyte
ProDIGITAL Smart Sensors
In addition to utilizing the most advanced DO sensing technology, the ProSolo incorporates smart sensor technology that enables sensors to be automatically recognized by the handheld. DIGITAL sensors store calibration data, so probe assemblies can be swapped between handhelds without the need for re-calibration.

EPA-Approved Methodology
The optical BOD (OBOD) sensor utilizes EPA-approved methodology for wastewater compliance reporting of BOD and CBOD, while ODO/T probe assemblies utilize EPA-approved methodology for compliance reporting of Dissolved Oxygen.

Provides Years of Sampling for All Field Conditions
The ProSolo handheld meets the demands of true fieldwork with a rugged, waterproof case (IP-67 rated) and a military-spec (MS) cable connector. Rigorously drop tested from all angles, the handheld features a 3-year warranty, while a 2-year warranty is included with the probe assembly and ODO Cap.

Advanced-Data Management
ProSolo includes KorDSS Software, a powerful data management program for easy 2-way communication between the meter and a PC. A unique data backup feature allows for the export of data to a USB flash drive (included) in CSV format without having to connect to a computer.

Convenient Sampling Experience
Ergonomic handheld for a comfortable grip
Easy-to-read color display and backlit keypad
Large onboard memory with storage capacity for over 100,000 data sets
Site ID and Data ID tag capabilities for data organization
Data export directly to USB flash drive (included)
Simple and quick calibration procedures
*ProSolo purchases include the instrument, manual, batteries, USB cable, and USB flash drive. Cables and probes are ordered separately.
(1) ProSolo digital water quality meter
(1) Rechargeable lithium-ion battery (pre-installed)
(1) Hand strap
(1) USB cable for charging & PC connection
(1) Universal AC charger
(1) Cable for connection to USB memory stick
(1) Quick start guide
(1) USB memory stick containing KorDSS software and manual
Questions & Answers
What parameters can the ProSolo measure?
The ProSolo is compatible with either the ODO/T or OTO/CT cable/probe assemblies. The ODO/T will measure dissolved oxygen and temperature, while the ODO/CT will measure dissolved oxygen, conductivity, and temperature. A BOD probe called the ProOBOD is also available for lab BOD measurements.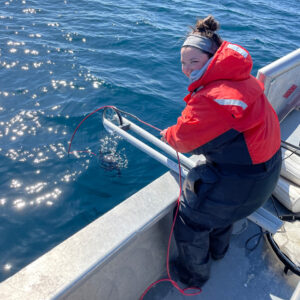 From crystal clear alpine lakes to muddy rivers and boggy swamps, water transparency is an easily observable water quality parameter to anyone who takes a few moments to peer into the (sometimes) murky depths. Water transparency varies dramatically based on the location of bodies of water among different watershed environments, but it can also change quickly due to a variety of internal and external factors. 
 
 At Miami University (OH), the Global Change Limnology Lab explores the many ways that water transparency impacts aquatic ecosystems. Operational for nearly 20 years, the lab trains undergraduate and graduate students and has conducted work from the midwest Great Lakes to Alaska, South America and New Zealand. 
 
 The Global Change Limnology Lab, headed by Dr.
Read More