GAO wants effectiveness of Great Lakes restoration tracked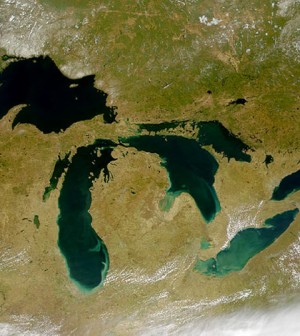 Great Lakes from space (Credit: SeaWiFS Project, NASA/Goddard Space Flight Center, and ORBIMAGE.)
A report from the U.S. Government Accountability Office on the effectiveness of Great Lakes cleanup programs states that there is a lack of metrics available to assess the true impact of restoration efforts, according to an article from the Grand Haven Tribune.
Several environmental officials who commented on the report mentioned that the best way to understand impacts that restoration projects have on the Great Lakes is to increase monitoring.
Susan Hedman, EPA Great Lakes national program manager, said that when the Great Lakes Restoration Initiative started in 2010 people were focused on repairing the water bodies rather than monitoring progress.
Hedman added that the in the coming five years more measurements of progress will be made to better assess restoration efforts.
Image: Satellite image of the Great Lakes from space (Credit: SeaWiFS Project, NASA/Goddard Space Flight Center, and ORBIMAGE.)