Army Corps to dredge and monitor highly polluted Indiana canal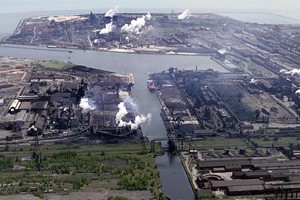 The U.S. Army Corps of Engineers is monitoring air quality as they dredge a canal near Lake Michigan, which is highly saturated with Polychlorinated Biphenyls from industrial dumping, according to Environmental Health News.
Air will be monitored at the dredging site and a nearby high school for petrochemicals and PCBs.
The Indiana Harbor and Ship Canal was heavily polluted by industrial manufacturers until the 1970s, causing sediment to retain many possible carcinogens. The canal dumps 88 pounds of PCBs into Lake Michigan each year, but dredging should decrease toxin levels.
Workers will dredge the canal to enable more shipping traffic through the waterway to harbor.
Image: Indiana Harbor and Ship Canal (Credit: Army Corps of Engineers, via Wikimedia Commons)