Beach Buoy Data Puts E. Coli Modeling Through Paces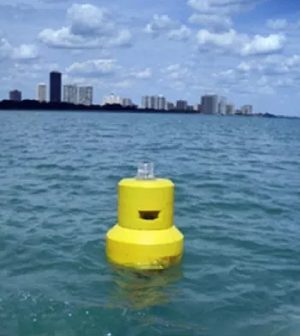 Buoy deployed in Lake Michigan near Chicago beaches. (Credit: Michigan State University College of Engineering)
After following data buoy-backed E. Coli modeling work going on around Chicago beaches for years, the Environmental Monitor can now finally report some of the project's results.
About five years ago, we covered the beginning of the work, headed up by researchers at the U.S. Geological Survey and the Chicago Park District. Back then, it was just a budding program, with nearshore buoy data being used in a small role to help manage beach water quality. And the model used to predict E. Coli levels for the beaches was just being developed.
But the program soon expanded a few years later, taking buoy platforms to all 24 of the city's beaches. Many were NexSens MB-100 data buoys, equipped with data loggers with integrated cellular telemetry. These broadcast sensor data on parameters including wind speed and direction, wave height, turbidity, rainfall and barometric pressure.
By that time, modeling efforts to predict E. Coli levels were hitting a stride and researchers began to gauge how the models were doing. But they still continued gathering discrete water samples for comparison.
Over the intervening years, scientists put the models through their paces to see how well they predicted E. Coli. A release from Michigan State University details some of the merits of the approach.
Essentially, using predictive modeling is a better way because it eliminates a time gap that discrete water sampling and analysis leaves. Because it takes a day or more to analyze samples for E. Coli, the results aren't useful for deciding if a beach should be closed or not.
Modeling removes that lag time, allowing for researchers and managers to predict what E. Coli levels at beaches likely are. With the predictions in hand, they can then decided to keep beaches open or closed on the same day.
According to the statement from Michigan State University, at least some of the buoy data are shared with park managers via an RSS feed. Data are also posted on the Chicago Park District's website for easy public access.
Clearly, there's a lot of utility for the real-time data that sensors on the buoys collect. But they've also proven to be quite useful for managers and scientists over time.
In a study posted in the Journal of Environmental Management, researchers with the U.S. Geological Survey, Chicago Parks District and Michigan State University detail the models' performance for predicting E. Coli at nine Chicago beaches.
They found that the empirical modeling approach outperformed the traditional method for E. Coli monitoring in terms of accuracy and specificity. In addition, scientists were able to refine the empirical modeling approach over time to improve performance.
A related study is posted in the journal Environmental Science and Technology.
Top image: Buoy deployed in Lake Michigan near Chicago beaches. (Credit: Michigan State University College of Engineering)