Beijing air particulate levels reach record highs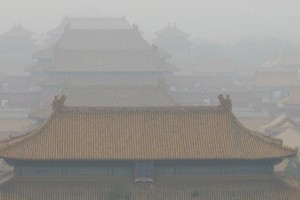 Air pollution levels of PM2.5 fine particles in Beijing were recently more than 25 times greater than the level the World Health Organization considers safe, according to an Associated Press article.
PM2.5 comes from power plants and automobile emissions. Density of the fine particles was greater than 700 micrograms per cubic meter in air around the city. WHO considers 25 micrograms per cubic meter to be a safe level of the pollutants. The air is so thick with pollution the Beijing government shut down building sites and factories. Administrators also took a third of official cars off the road.
Image: Smog over Beijing's Forbidden City (Credit: Brian Jeffery Beggerly, via Flickr)