Coral bleaching to rise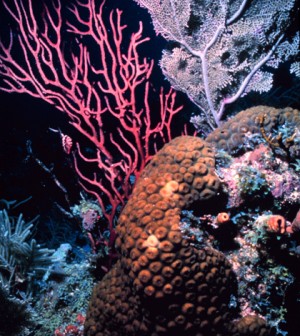 The University of Miami Rosenstiel School of Marine & Atmospheric Science has announced the results of a study published in Nature Climate Change that suggests that carbon emissions are likely to cause an increase in coral bleaching due to their effect in raising sea temperatures.
Bleaching of coral reefs occurs when elevated sea temperatures cause the algae within coral to become light-sensitive. The algae, which provide food and color to corals, are poisoned and eventually become expelled after substantial light exposure.
The study indicated that without significant emission reductions, 74 percent of reefs are projected to experience coral bleaching conditions annually by 2045; however, lowering emissions would delay potential bleaching by about two decades.
Image: Reef scene (Credit: NOAA)