Custom monitoring system finds abundant Mid-Atlantic sea scallops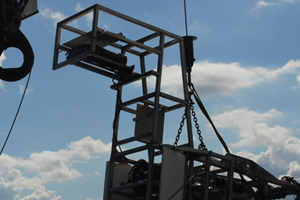 Sea floor monitoring with a newly developed survey system showed that high numbers of young scallops live near the Delaware Bay, which is good news for fishermen, according to a National Oceanic and Atmospheric Administration press release.
Researchers found that the current juvenile scallop population off Delaware Bay was similar to population record years in 2002 and 2003. Once harvested, those scallops brought around $500 million at the dock.
The monitoring rig, dubbed the Seahorse for the shape of its tubular framework, was developed by the Woods Hole Oceanographic Institution. The instrument incorporates stereo cameras with strobes, a CTD, fluorometer, spectrometer, dissolved oxygen sensor and side scan imaging. A special camera onboard takes ten overlapping photographs in a row, creating a continuous ribbon of photos that give researchers sweeping views of the ocean floor. Researchers drag the rig a few meters above the ocean floor to collect photographs and environmental data.
Researchers from the University of Delaware, NOAA, the Northeast Fisheries Science Center and Woods Hole Oceanographic Institution conducted the study over three trips this year.
Image: The "Seahorse" survey instrument (Credit: Shelley Dawicki, NEFSC/NOAA)