Dam removal in Penobscot River opens habitat to native fish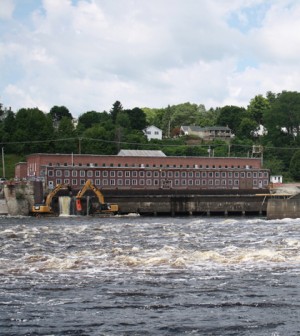 Workers removed the Veazie Dam on the Penobscot River, creating a refurbished passageway to 1,000 miles of habitat for native fish, according to the National Fish and Wildlife Foundation.
The Penobscot has been dammed for around 200 years impairing passageways for Atlantic salmon and other native fish.
Creating new fish passages in the river started with the removal of the Great Works Dam last year. The Veazie Dam demolition reconnects fish passages between the Penobscot  and the Gulf of Maine.
Fish passages will be built in other dams as part of the ongoing project.
Reopened migration passages will enable  eight species of fish to reach fishing grounds for the Penobscot Indian Nation.
Image: A section of the Veazie Dam on the Penobscot River (Credit: U.S. Fish and Wildlife Service, via Flickr)