Elevated benzene emissions detected near North Texas gas production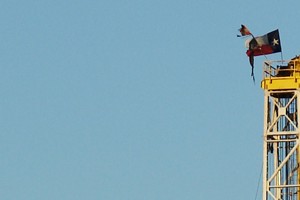 A non-profit air monitoring organization started by a former Texas mayor found elevated levels of benzene near shale gas production operations in the Barnet Shale, according to a Shale Test press release.
The organization claims air monitoring detected volatile organic compounds emitted from natural gas production facilities in Northern Texas. The group found many of these emissions were near residential communities.
Shale Test monitoring workers used a special camera that detects volatile organic compounds in the air. They also collected samples with stainless steel summa canisters. The Texas Commission on Environmental Quality performed follow-up sampling on the areas confirming toxic emission at a gas production facility in Fort Worth.
Shale Test was started by Calvin Tillman, a former mayor of Dish Texas where oil and gas production activity booms.
Image: A drilling rig in the Barnet Shale region (Credit: David R. Tribble, via Wikimedia Commons)