Federal reports show prevalent Chesapeake Bay sediment pollution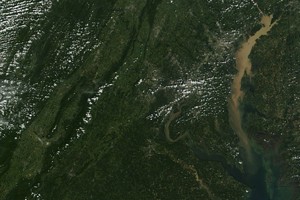 Tropical Storm Lee carried sediment into Chesapeake Bay in 2011 (Credit: NASA MODIS Rapid Response Team at NASA GSFC)
Two recent federal reports on the Chesapeake Bay document poor water quality thanks to contaminated sediment with little sign of recent improvement, according to Chesapeake Bay News.
A U.S. Geological Survey report shows monitoring stations from the Potomac, Susquehanna and James rivers and six other waterways, recorded steady trends of nutrient deposition into the bay from 1985 to 2010. Data from 2001 to 2010 shows the majority of stations recorded no change in nutrient deposition or saw worsening conditions. Click here to read the full report.
Toxic chemicals are also prevalent in Chesapeake Bay sediment, according to a joint U.S. Environmental Protection Agency and USGS report.  The report aggregated data from numerous sources finding PAHs, pharmaceuticals, pesticides and PCBs in sediment among other contaminants.
Image: Tropical Storm Lee carried sediment into Chesapeake Bay in 2011 (Credit: NASA MODIS Rapid Response Team at NASA GSFC)