Forecast predicts record Gulf of Mexico dead zone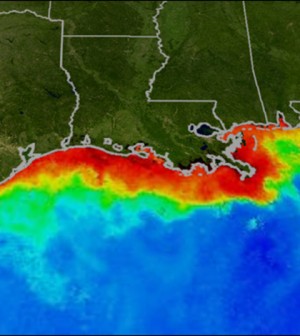 Forecasts from the National Oceanic and Atmospheric Administration and three academic organizations predict that the Gulf of Mexico dead zone may be as large as the state of New Jersey this year, according to a NOAA press release.
Predictions of the potential record dead zone come due to flooding in the Midwest, which caused heavy nutrient runoff into the Mississippi River.  In May, the U.S. Geological Survey estimated 153,000 metric tons of nutrients flowed into the Gulf of Mexico, 94,900 metric tons more than last year.
The forecast states that the gulf could have between 7,286 and 8,561 square miles of low oxygen water, uninhabitable to many aquatic species.
Researchers from the University of Michigan, Louisiana State University and Louisiana Universities Marine Consortium all contributed to modeling and prediction of the dead zone.
Image: A graphic of the dead zone (depicted in red) along the Gulf Coast (Credit: NOAA)