Great Lakes Research Consortium: Growing a network for Great Lakes monitoring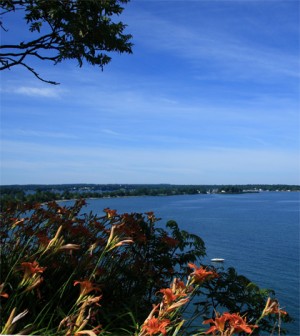 Nearly three million people in New York state depend on the Great Lakes for drinking water. Ensuring the quality of that water is a big job. Luckily, the Great Lakes Research Consortium (GLRC) is a big group.
The GLRC involves 18 colleges in New York and nearly 400 researchers. It's headquartered in Syracuse at the College of Environmental Science and Forestry at State University of New York. Among its research initiatives, it helps support a budding network of monitoring stations in the Great Lakes.
"There was an up and down in the quality of water," said George Westby, research chemist at SUNY. "So we decided to search for things that we could do to give the public an eye to the changes."
For the public to see the changes, Westby and others decided a monitoring network was needed. The GLRC began deploying a series of monitoring stations in the New York area. A web portal became the main venue for sharing data from the different stations.
"People were hitting the site all the time, wanting to know, 'where are the fish?,'" said Westby. "We got a lot of calls saying this is great."
The sites that the GLRC supports are mostly near New York and include buoys and weather stations. There are a few in sites in Ohio because the state is so close. The group is also moving into Ontario.
The expansion is welcome, because the stations provide more than just data.
"There's support in all the towns because they want the data," said Westby. "A few high schools are using the website for classes to understand weather data, and a college came out to see how we set up data acquisition."
Just seeing a station lets kids know where weather data come from, Westby says. It gives them a better view and more understanding of where the numbers in weather forecasts originate.
Westby says the data coming through often come before local forecasts. Given parameters like barometric pressure, temperature or humidity and a knowledge of what kind of weather those create, Westby says it's possible for someone to do their own forecasts.
But Westby wants the portal to be stronger. He says the raw data are available, but that its current form is somewhat basic.
Part of making the portal stronger is shoring up the monitoring sites. Oneida Lake, for example, has a Vaisala weather station and a new power setup for its NexSens data logger but needs a buoy offshore. Some buoys – like Oswego, Rochester and Sodus Bay – need water quality sondes. The other part is shoring up the staff.
"Our biggest issue is manpower. We just don't have the manpower," said Westby. "Other buoy systems have big teams that work on all the data, and that's what we're looking for."
Westby wants a graphing system that's more customizable and open. If data could easily be downloaded, teachers could take the data and use it to teach their children.
"It's still a baby. It still needs to mature," said Westby. "Each station needs to push data and come together. It's a strong system, but it needs to grow – not in size but in functionality."
Top image: Overlooking Lake Ontario near Sodus Bay (Credit: John Menard, via Flickr)