Listening in on spawning fish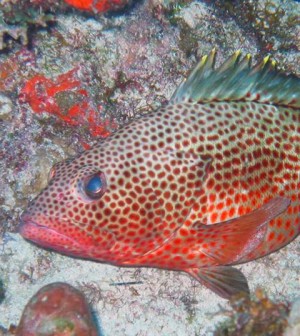 The National Oceanic and Atmospheric Administration has announced a research initiative aimed at protecting reef fishes' spawning grounds in the Caribbean.  Led by scientists at the University of Puerto Rico, researchers will use underwater microphones to gain greater knowledge of reef fishes' spawning practices to aid in preserving the Caribbean's depleted fish population.
Reef fish, such as groupers, make characteristic sounds when they gather to spawn. Researchers hope that by studying and understanding their mating sounds, they will be able to pinpoint and protect the spawning locations from overfishing of commercially viable fish.
This research technique has the potential to help restore various species not only in shallow water coral reef ecosystems, but also on previously unexplored deeper water coral reef ecosystems.
Image: Female spawning Red Hind Grouper (Credit: University of Puerto Rico/ NOAA)