Pesticide levels dropping in Washington salmon streams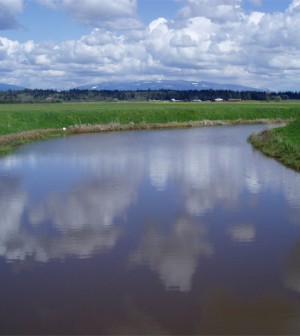 Researchers from the Washington state departments of agriculture and ecology have determined that pesticide concentrations in the state's salmon-bearing streams have declined over the past decade, according to Capital Press.
Researchers collected weekly samples from streams at both agricultural and urban watersheds that flow into Puget Sound and the Columbia River and tested them for more than 170 pesticides. The resulting data showed that most pesticides were present in lower quantities than what would be deemed potentially harmful for the area's marine wildlife.
Researchers hope the data can help farmers make more informed choices on their pesticide use in order to minimize the impact of chemical runoff in the state's waterways.
Image: Indian Slough in western Washington (Credit: State of Washington Department of Ecology)