Plans for new Canadian oil sands monitoring agency announced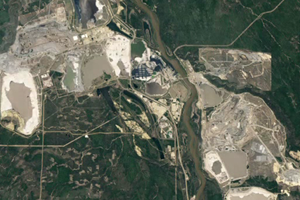 A Canadian province has a new environmental monitoring agency in the works that will focus on areas where companies produce oil from tar sands, according to the Edmonton Sun.
The new agency, which remains nameless, will monitor water, air, land and biodiversity in Alberta. The agency is described as "arm's length" because it will likely be part of the Canadian government and not fully independent.
Oil companies pledged to help fund the agency with up to $50 million per year.  Timeline for the agency's development varies from less than a year to a few years, according to the Edmonton Journal. The plans have received criticism because details on the new agency are vague.
Image: Satellite images show the growth of pit mines over Canada's oil sands as of 2011 (Credit: NASA/Goddard Space Flight Center, via Wikimedia Commons)