Research Aims To Solve Mysteries Of American, Mexican Carbon Cycle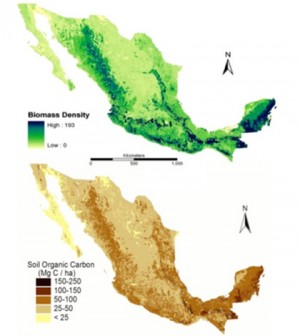 Above-ground biomass density and soil organic carbon data. (Credit: Paz, Vargas, et al.)
The North American carbon cycle exists in a patchwork of different landscapes and ecosystems, largely split up because of human settling patterns. The fact that the carbon cycle landscape has been broken up into pieces makes studying it as a whole challenging, but researchers at the University of Kansas are doing just that, according to a release.
There is not much information on how different regions of Mexico, especially, will respond to global warming. Mexico contains many different biomes that are currently unaccounted for in terms of carbon cycle information. The KU researchers intend to bring together data encompassing the key components of American and Mexican carbon cycles and water cycles, then use them for refining atmospheric and terrestrial models.
Researchers also plan to use satellite imagery to determine where information gaps exist. Evapotranspiration figures, forest inventory data and advanced meteorological tower data will likely be used. Scientists also plan to assess impacts of land cover changes and urbanization in the U.S. and Mexico.
Top image: Above-ground biomass density and soil organic carbon data. (Credit: Paz, Vargas, et al.)