Scientists near-unanimous on manmade global warming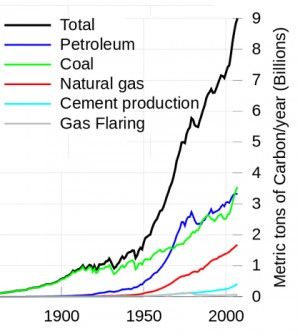 An international study led by researchers from the University of Queensland in Australia suggests that an overwhelming percentage of scientists agree that global warming is mostly the result of human activity, World Bulletin has reported.
Scientists from Australia, the United States, Britain and Canada examined 4,000 summaries of peer-reviewed papers dating back to the early 1990s that pertain to global warming.  The panel found that 97 percent of these scientific studies suggest that global warming is mostly due to manmade factors.
A survey of 2,000 of the authors of these papers also revealed that 97 percent agree that global warming stems from the human use of fossil fuels and various other pollutants.
Global average temperatures have risen by 0.8 degrees Celsius since the Industrial Revolution.
Image: Graph of global emissions since  (Credit: Carbon Dioxide Information Analysis Center)