Study finds forest fire charcoal travels to world's oceans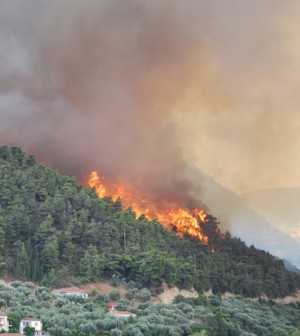 A collaborative study by scientists from Florida and Germany determined that charcoal from forest fires travels through watersheds and eventually ends up in oceans, according to a Florida International University release.
Study authors Rudlof Jaffé, a FIU chemistry professor, and Thorsten Dittmar, a marine geochemistry professor at Germany's University of Oldenburg, found charcoal makes up a significant portion of dissolved organic carbon in water around the world.
Analysis of 174 water samples from water bodies across the world showed that ten percent of organic carbon dissolved in water is charcoal, according to LiveScience.com.
The study defies previous assumptions that the majority of charcoal stays deposited in soil where forest fires once blazed.
Results were published in the journal Science.
Image: Forest fire in Greece (Credit: Lotus R, via Flickr)