Study shows half of Minnesota stream miles impacted by humans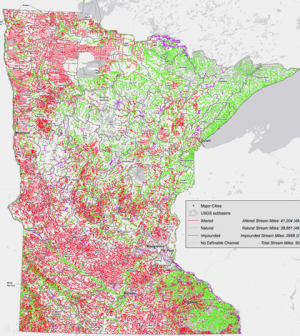 Map of Minnesota streams; altered channels in red (Credit: MPCA and MNGeo)
Comparison of historical and current aerial photos of Minnesota streams shows that about half of the total stream miles have been impacted by human activity, according to a report from the Duluth News Tribune.
A Minnesota Pollution Control Agency study showed that 49.6 percent of stream miles were impacted by human activities.
Much of the human induced change is near Minnesota's Twin Cities and agricultural operations.   Several streams in western, central and northwestern Minnesota have been modified by irrigation drainage ditches used in farming.  Many streams in suburban areas are now underground.
Steve Mikkelson, spokesman for the pollution control agency, said the study will help in planning monitoring efforts as many modified streams have higher than natural flows and carry more pollutants.
Minnesota has more than 80,000 stream miles.
Click here to see the Minnesota Altered Watercourse Project Website.
Image: Map of Minnesota streams; altered channels in red (Credit: MPCA and MNGeo)