Archived flight records help show ocean has little drag on extreme hurricane winds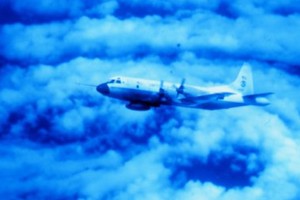 Delft University of Technology researchers found that the ocean surface loses almost all air resistance during hurricanes with extremely high wind speeds, according to a TU Delft press release.
Researchers discovered that foam, spray and bubbles smooth over waves as wind speed increases and help create a surface with almost no drag.
Traditional modeling of ocean wind resistance was never previously tested for extreme wind conditions, according to the release. Lea Holthuijsen, a TU Delft civil engineering professor, Julie Pietrzak, a TU Delft civil engineer and Mark Powell, an atmospheric scientist at the National Oceanographic and Atmospheric Administration, tested the modeling conditions.
The team found that white caps sustain at moderate speeds. At extreme wind speeds, near 150 kilometers per hour, waves join together. Surface precipitation, like foam and bubbles, increases with wind speed, smoothing over waves. At 300 kilometers per hour the ocean has essentially no wind resistance.
The phenomena, though, does not apply to every part of ocean beneath a hurricane, according to the release. Cross winds in the hurricane cause some waves to create resistance as they follow one gust across the path of another gust.
Researchers discovered the aerodynamic effects by analyzing footage from NOAA reconnaissance planes which flew at low altitudes from the 1960s to the 1980s. These flights stopped because the method was considered too risky.
The TU Delft team did fly into hurricanes, but they did so from a much higher altitude. They dropped sensors from the planes to monitor hurricanes. The sensors transmitted data as they fell and were destroyed once they hit the water.
Image: NOAA P-3 flying in eye of Hurricane Caroline. (Credit: NOAA Photo Library)