Aanderaa 4060 Temperature Sensors
The Aanderaa 4060 Temperature Sensor is designed to be mounted in SeaGuardII platforms or external measurement systems using RS-232 interface.
Features
Smart sensor technology for plug-and-play interface
Calibration coefficients are stored in the sensor
Short response time, less than 2 seconds
Fondriest Exclusives
Expedited repair and warranty service
Lifetime technical support
A compact fully integrated sensor for measuring the water temperature. The Aanderaa Temperature Sensor is designed to be mounted on Aanderaa Recording Instruments top-end plate or in other measurement systems using the RS-232 interface.

The sensor is based on a thermistor-bridge. A Digital Signal Processor controls the sampling of the bridge and calculates the calibrated water temperature in engineering units. The sensor is housed in a rugged titanium cylinder. When mounted onto an Aanderaa Recording Current Meter or data logger platform, the sensor output signal is by default engineering data. Raw data can be selected as an additional output.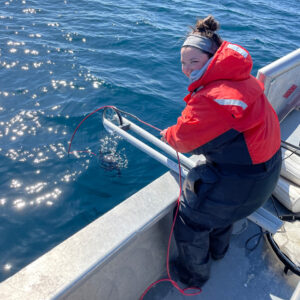 From crystal clear alpine lakes to muddy rivers and boggy swamps, water transparency is an easily observable water quality parameter to anyone who takes a few moments to peer into the (sometimes) murky depths. Water transparency varies dramatically based on the location of bodies of water among different watershed environments, but it can also change quickly due to a variety of internal and external factors. 
 
 At Miami University (OH), the Global Change Limnology Lab explores the many ways that water transparency impacts aquatic ecosystems. Operational for nearly 20 years, the lab trains undergraduate and graduate students and has conducted work from the midwest Great Lakes to Alaska, South America and New Zealand. 
 
 The Global Change Limnology Lab, headed by Dr.
Read More