Aanderaa 4531 Oxygen Optode Sensors
The Aanderaa 4531 Oxygen Optode is a compact fully integrated sensor for measuring the O2 concentration and temperature.
Features
Optical lifetime-based luminescence quenching measurement principle
Long time stability with red reference LED
Available with integrated cable or wet-mate connector termination
Fondriest Exclusives
Expedited repair and warranty service
Lifetime technical support
The Aanderaa Oxygen Optodes are based on the ability of selected substances to act as dynamic fluorescence quenchers. The fluorescent indicator is a special platinum porphyrin complex embedded in a gas permeable foil that is exposed to the surrounding water. A black optical isolation coating protects the complex from sunlight and fluorescent particles in the water. This sensing foil is mounted on a glass window providing optical sampling from inside a watertight housing. The sensing foil is excited by modulated blue light; the sensor measures the phase of the returned red light. For improved stability, the optode also performs a reference phase reading by use of a red LED that do not produce fluorescence in the foil.

The sensor has an incorporated temperature thermistor which enables linearization and temperature compensation of the phase measurements to provide the absolute O2-concentration. The Oxygen Optode outputs data in RS-232 and analog 0-5V, 0-10V or 4-20mA. The sensor can present the O2 concentration in µM, Air Saturation in % and Temperature in °C.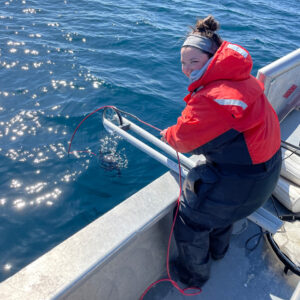 From crystal clear alpine lakes to muddy rivers and boggy swamps, water transparency is an easily observable water quality parameter to anyone who takes a few moments to peer into the (sometimes) murky depths. Water transparency varies dramatically based on the location of bodies of water among different watershed environments, but it can also change quickly due to a variety of internal and external factors. 
 
 At Miami University (OH), the Global Change Limnology Lab explores the many ways that water transparency impacts aquatic ecosystems. Operational for nearly 20 years, the lab trains undergraduate and graduate students and has conducted work from the midwest Great Lakes to Alaska, South America and New Zealand. 
 
 The Global Change Limnology Lab, headed by Dr.
Read More