Aanderaa RCM Blue Recording Current Meters
The RCM Blue is a rugged self-recording current meter for measuring current speed and direction in freshwater or marine environments.
Features
Bluetooth for communications and data retrieval
Built-in solid state 3-axis tilt-compensated compass
Battery compartments with up to 70Ah
Fondriest Exclusives
Expedited repair and warranty service
Lifetime technical support
The RCM Blue is a self-recording Current Meter which also measures water temperature as standard and pressure as optional. The Doppler Current Sensor is an upgraded version of the proven SeaGuard ZPulse sensor. The instrument configuration and data retrieval is done via Bluetooth, which eliminates the need to open the pressure case for repeated deployments.

The DCS sensors are based on the backscatter acoustic Doppler principle. The DCS has two transducers on each orthogonal axis. This enables the DCS to measure in both directions on each axis which makes it insensitive to disturbance from vortex speeds around the sensor itself and the mooring line when the forward ping feature is enabled. One transducer on each axis transmits short ultrasonic pulses simultaneously (50 to 600 pings in each recording interval). The same transducers receive backscattered signals from particles in the water. This gives an orthogonal x and y speed component which is tilt compensated to find the correct horizontal speed components. The North and East speed components are calculated based on the x and y speed components and the heading from the built-in solid state electronic compass. The sensor takes several of these two-component measurements and finally calculates the averaged north and east speed components and the vector averaged absolute speed and direction.

Another great advantage is the ZPulse technology which improves the statistical precision. Complex acoustic pulses comprising two distinct frequencies which are combined into a single acoustic pulse. The ZPulse based DCS separates the received signal into different frequency bands, one for each frequency in the transmitted signal. Further, it analyses the frequency shift using a high speed Digital Signal Processor using an ARMA (Auto Regressive Moving Average) based parametric model processing algorithm to find the Doppler shift frequencies. This multi-frequency technique reduces the required number of pings needed in order to achieve an acceptable statistical error. The achieved measurement precision is proportional to the inverse of the square root of the number of ping measurements in a measurement interval.

The ZPulse DCS uses two frequencies and this gives a reduction by a factor square root of two compared to a single frequency sensor. A single frequency sensor needs twice the number of ping to achieve the same precision as the Zpulse DCS. The instrument outputs Absolute Current Speed and Direction, Speed in east and north direction, Ping Count, and extensive readout of quality control parameters such as Single-ping Standard deviation, Heading, Tilt in X- and Y-direction, and Signal Strength.
RCM Blue Recording Current Meter
1 battery package, alkaline
1 empty battery shell (for e.g. lithium batteries)
2 magnetic tip pens to activate Bluetooth (one located inside the battery container)
USB to Bluetooth adapter
Configuration software, AADI Real-Time Collector
Data visualization and analysis Software, Aanderaa Data Studio.
Documentation CD including operating manuals and SW installation files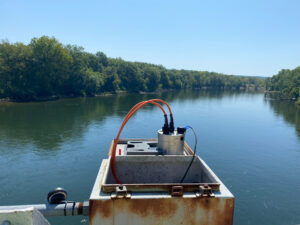 Growing up surrounded by water, whether it be rivers or streams, lakes or ponds or right on the coast of the ocean, it can be easy to forget that clean water is a limited resource. For many, turning on the tap means potable, running water—"You're not really thinking, 'well this comes from a reservoir,'" explains Sarah Dexter, an Environmental Program Supervisor with the Oklahoma Water Resources Board (OWRB). 
 
The OWRB monitors various waterbodies throughout Oklahoma, and Dexter works specifically with rivers and streams, which has placed her on several projects involving dams and stormwater monitoring.
Read More