Extech 382357 Clamp-On Ground Resistance Tester
The Extech Clamp-On Ground Resistance Tester allows non-contact measurements of ground conductors without auxiliary ground spikes.
Features
Unit includes an audible alarm for exceeding user-programmable ground limits, high and low
Internal data logging is available for up to 116 data points
True RMS AC leakage current measurements
Fondriest Exclusives
Free ground shipping
Expedited repair and warranty service
Lifetime technical support
The Clamp-On Ground Resistance Tester is capable of measuring ground resistances between 0.03 and 1500 Ohms without the need for auxiliary ground spikes. The unit features a programmable high and low threshold alarm and internal data logging for up to 116 data points.

Automatic self calibration and included verification resistors help ensure accurate measurements throughout the life of the meter. Additionally, electrical noise detection is built in and a 9999 count LCD display offers precision measurements, especially at low resistances.
Ground Resistance Range/Resolution/Accuracy:
0.025 to 0.25/0.002/±(1.5% + 0.05 )
0.250 to 1.000/0.02/±(1.5% + 0.05 )
1.001 to 9.999/0.02/±(1.5% + 0.1 )
10.00 to 50.00/0.04/±(1.5% + 0.1 )
50.01 to 99.99/0.04/±(1.5% + 0.5 )
100.0 to 200.0/0.4/±(1.5% + 0.5 )
200.1 to 400.0/2/±(5.0% + 5 )
400.0 to 600.0/5/±(10% + 10 )
600.1 to 1500/20/±20%
AC Leakage Current (Trms) Range/Resolution/Accuracy:
0.300 to 1.000mA/0.001mA/±(2.0% ± 0.05mA)
1.00 to 10.00mA/0.01mA/±(2.0% ± 0.03mA)
10.0 to 100.0mA/0.1mA/±(2.0% ± 0.3mA)
100 to 1000mA/0.1mA/±(2.0% ± 0.3mA)
0.20 to 4.00A/0.01A/±(2.0% ± 0.03A)
4.00 to 30.00A/0.01A/±(3.0% ± 0.03A)
Resistance test frequency: 1.667kHz
Dimensions: 10.2 x 4.4 x 1.9" (258 x 110 x 47mm)
Weight: 24.7oz (700g)
(1) Clamp-on ground resistance tester
(1) 9 V battery
(1) Resistance check plate
(1) Metal storage case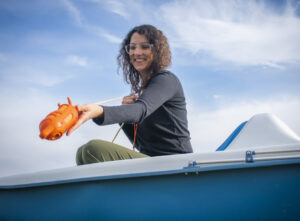 The Sontek CastAway-CTD is a castable device that measures conductivity, temperature and depth. The instrument has been used in the field for over a decade by oceanographers, limnologists, divers, fishers and educators. There have been few changes since the first iteration in 2010, showing that the instrument is durable and accurate without requiring new models. 
 
 The CastAway is the first conductivity, temperature and depth (CTD) instrument of its kind. While other CTDs are large and cumbersome to deploy, with cages and isolated sensors, the CastAway is a small, lightweight and easy-to-use instrument. Typical CTDs utilize pumps to ensure water flows over the sensors during deployment.
Read More