Extech 407730 Sound Level Meter
The Extech Sound Level Meter displays an analog bargraph wiht 50dB range that updates every 40ms for viewing trends.
Features
Utilizes 0.5"(12.7mm) condenser microphone
Tripod mountable
40 to 130dB measuring range
Fondriest Exclusives
Expedited repair and warranty service
Lifetime technical support
The Extech Sound Level Meter utilizes a 0.5" condenser microphone at a 40 to 130dB meauring range. The meter records max/min values over time. Applications include monitoring workplace machinery, installing audio and alarm systems, and product noise certification and reduction.
Display counts: 2000 count LCD
Range: 40 to 130dB
Resolution: 0.1dB
Basic accuracy: +/-2dB
Condenser microphone: 0.5" (12.7mm)
Analog output: AC
Dimensions: 9 x 2.2 x 1.7"(230 x 57 x 44mm)
Weight: 5.6 oz (160g)
(1) Sound level meter
(1) Microphone windscreen
(4) AAA batteries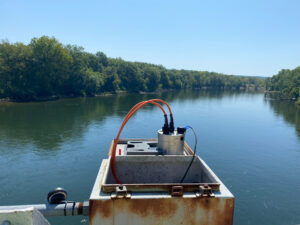 Growing up surrounded by water, whether it be rivers or streams, lakes or ponds or right on the coast of the ocean, it can be easy to forget that clean water is a limited resource. For many, turning on the tap means potable, running water—"You're not really thinking, 'well this comes from a reservoir,'" explains Sarah Dexter, an Environmental Program Supervisor with the Oklahoma Water Resources Board (OWRB). 
 
The OWRB monitors various waterbodies throughout Oklahoma, and Dexter works specifically with rivers and streams, which has placed her on several projects involving dams and stormwater monitoring.
Read More