Extech 42500 Mini Laser IR Thermometer
The Extech Mini Laser IR Thermometer is compact and measures temperatures up to 500°F (260°C).
Features
Built-in laser pointer quickly identifies target area
Automatic data hold when trigger released
Fixed 0.95 emissivity covers 90% of surface applications
Fondriest Exclusives
Expedited repair and warranty service
Lifetime technical support
The Extech Mini IR Thermometer is a compact instrument that measures up to 50°F (260°C) with a built-in laser pointer that identifies target area and improves aim. The backlighting illuminates display for taking measurements at night or in areas with low background light levels.Other features include fixed 0.95 emissivity, automatic data hold, and auto power off.
Range: -4 to 500F (-20 to 260C)
Basic accuracy: +/-2% of reading or +/-4F/2C (whichever is greater)
Maximum resolution: 1°F/°C
Emissivity: 0.95 fixed
Field of view (distance to target): 6:1
Dimensions: 3.2"x1.7"x6.7" (82x44x170mm)
Weight: 4.9oz (140g)
Warranty: 3 years
(1) InfraRed thermometer
(1) 9 V battery
(1) Pouch case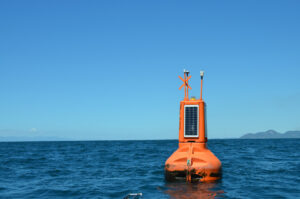 Lake Malawi (also known as Lake Nyasa and Lake Niassa) doubles as a Rift Valley Lake and one of the seven African Great Lakes. Due to its unique biodiversity, it's a great place to conduct limnological studies. Harvey Bootsma is a professor for the School of Freshwater Sciences at the University of Wisconsin-Milwaukee and has had an interest in limnology ever since he was a kid. Bootsma fondly recalls summer vacations to Georgian Bay, Ontario, "I probably spent as much time in the water as I did out of it." He continues,"I remember telling myself 'I'm going to get a job where I can stay here all the time.'" While Harvey didn't end up working on Georgian Bay, he was offered a job working on Lake Malawi. He continued working there while completing his Ph.D.
Read More