Extech Combination Pin/Pinless Moisture Meter with Remote Pin Probe
The Extech Combinations Pin/Pinless Moisture Meter performs non-invasive or contact moisture measurements.
Features
Quickly indicates the moisture content of materials
Electro-magnetic sensing technology
Built-in calibration check
Fondriest Exclusives
Free ground shipping
Expedited repair and warranty service
Lifetime technical support
The Extech Combination Pin/Pinless Moisture Meter provides the choice of measuring moisture in wood and other building materials with pinless technology creating virtually no surface damage, or by using traditional pin type measurement directly from the meter or through a remote pin probe. The meter quickly indicates and displays moisture readings through a digital LCD readout with backlighting feature and tri-color LED bargraph. The pinless measurement depth is to 0.75 inches below the surface using electro-magnetic sensing technology. The electrode pins are replaceable, and a cap protects the pins during storage and can be snapped on to the side of the housing during use.
Display: backlit LCD digital display and tri-color LED bargraph scale
Resolution: 0.1%
Accuracy: pin mode +/-(5% rdg + 5 digits); pinless is a relative reading only
Measurement principle: electrical resistance (pins); electromagnetic sensor (pinless)
Range: 6.0 to 94.8 %WME (pins); 0.0 to 99.9 %relative (pinless)
Electrode pin length: 11mm (0.44")
Electrode pin type: integrated, replaceable
Power supply: 9V alkaline battery
Low battery Indication: battery symbol displayed on LCD
Meter housing: impact-proof plastic
Operating temperature: 0 to 50 C (32 to 122 F)
Operating humidity: 80% relative humidity maximum
Dimensions: 203x58x43mm (8x2.3x1.7"); not including remote probe
Weight: 204g (7.2 oz); not including remote probe
(1) Meter
(1) Remote pin probe
(20) Replacement pins
(1) Protective cap
(1) 9V battery
(1) Soft pouch case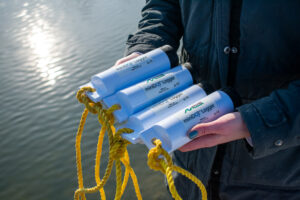 The PME miniDOT Logger is a compact data logger that measures dissolved oxygen (DO) and temperature down to 100 meters in depth. The unit can also endure low water temperatures and is durable underneath an ice layer, which is excellent for gathering essential winter water quality data that is lacking from using less robust equipment. The high depth rating and ability to withstand frigid temperatures make the PME a reliable device that is deployable in dramatically different environments, such as a monitoring well, an inland lake or an underwater cave. 
 
The logger itself features an optical DO sensor, temperature sensor, two AA lithium batteries and a micro SD memory card.
Read More