Extech ExStik Chlorine Meter
The Extech ExStik Chlorine Meter provides fast and easy measurements of total chlorine direct readings.
Features
Low detection limit down to 0.01ppm
Unaffected by sample color or turbidity
Automatic electronic calibration
Fondriest Exclusives
Free ground shipping
Expedited repair and warranty service
Lifetime technical support
Overview
The Extech ExStick Chlorine Meter features a unique flat surface electrode that conducts direct total chlorine readings. The range is 0.01ppm to 10ppm, and the measurements are unaffected by the color or turbidity of the sample. The memory stores, tags, and recalls up to 15 readings and calibrations. The 2000 count LCD simultaneously displays ppm of total chlorine and temperature plus analog bargraph indicator.
ppm range: 0.01 to 10.00ppm (10 to 50ppm using dilution method)
Temperature range: 23° to 194°F (-5 to 90°C)
Resolution: 0.01ppm ; 0.1°F/°C
Accuracy: ±10% of reading ±0.01ppm; ±1.8°F/±1°C
Power: four SR44W button batteries
Dimensions: 1.4 x 6.8 x 1.6" (35.6 x 172.7 x 40.6mm)
Weight: 3.85oz (110g)
(1) ExStik chlorine meter
(1) Flat surface chlorine electrode
(50) ExTab reagent tablets
(1) Protective sensor cap
(1) Sample cup with cap
(4) 3V CR-2032 batteries
(1) 48" (1.2m) neckstrap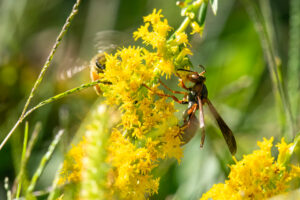 Pollinators of all shapes and sizes are vital to ecosystems around the world. From the wide array of food people eat to the diversity of life around the planet, life would be very different without them. Pollinators are organisms that help carry pollen from one plant to another, and over 350,000 species can be found worldwide, according to The California Department of Fish and Wildlife . With the strong relationship between plants and pollinators, losing either would have detrimental impacts on ecosystems. 
 
 Over millions of years, both plants and pollinators have evolved alongside each other and formed unique adaptations that allow them to work together, expediting and enhancing the process of pollination.
Read More