Extech MA150 200A Mini AC Clamp Meter + NCV Detector
The Extech 200A Mini Clamp meter + Non-Contact Voltage Detector increases user safety by including a built-in voltage detector in the jaw tip.
Features
Measures DC Current, AC/DC Voltage, and Resistance
Diode and Continuity test
Max hold function
Fondriest Exclusives
Expedited repair and warranty service
Lifetime technical support
The Extech MA120 is a clamp-on meter that measures 200A AC Current up to 100mA resolution. The MA120 also includes a non-contact AC Voltage detector (120/240VAC, 50/60Hz) that provides the user with extra protection and safety because they can detect dangerous voltage before even testing the meter. The 0.7 (18mm) jaw opening is for a 300MCM cable size. Other features include a 2000 count LCD display, built-in white LED flashlight, data hold, auto power off, and overload protection. Additionally, it measures DC current, AC/DC voltage, and resistante, as well as performs diode and continuity tests.
AC current range: 200A
AC current maximum resolution: 100mA
AC current basic accuracy: ±2.5%
AC voltage: non-contact/600V
AC voltage maximum resolution: 0.1mV
Resistance range: 20MΩ
Resistance maximum resolution: 0.1Ω
Resistance basic accuracy: ±3.0%
Dimensions: 7x2.5x1.3" (178x65x32mm)
Weight: 6 oz (170g)
(1) Meter
(2) AAA batteries
(1) Soft case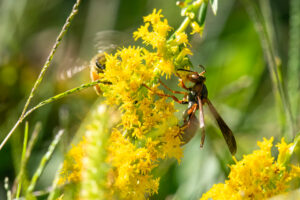 Pollinators of all shapes and sizes are vital to ecosystems around the world. From the wide array of food people eat to the diversity of life around the planet, life would be very different without them. Pollinators are organisms that help carry pollen from one plant to another, and over 350,000 species can be found worldwide, according to The California Department of Fish and Wildlife . With the strong relationship between plants and pollinators, losing either would have detrimental impacts on ecosystems. 
 
 Over millions of years, both plants and pollinators have evolved alongside each other and formed unique adaptations that allow them to work together, expediting and enhancing the process of pollination.
Read More