Extech Pin/Pinless Combination Moisture Meter
The Extech Combination Pin/Pinless Moisture Meter monitors moisture in wood and other building materials with virtually no surface damage.
Features
Relative pinless moisture reading for non-invasive measurement
Electro-magnetic sensing technology
Built-in calibration check
Fondriest Exclusives
Free ground shipping
Expedited repair and warranty service
Lifetime technical support
The Extech Pin/Pinless Combination Moisture Meter performs non-invasive measurements using the relative pinless moisture reading. The meter measures %WME (wood moisture equivalent) pin moisture reading, which is displayed on a digital LCD readout with backlighting feature and tri-color LED bargraph. The pinless measurement depth is to 0.75 inches below the surface. The cap protects pins during storage and can be snapped on to the side of the housing during use.
Pinless range: 0 to 99.9 (relative)
Pinless maximum resolution: 0.1
Pin range: 6.0 to 94.8% WME
Pin maximum resolution: 0.1%
Dimensions: 8x2.3x1.7" (203x58.4x43.2mm)
Weight: 7.2oz (204g)
(1) Meter
(1) 9V battery
(1) Set of replacement pins
(1) Protective cap
(1) Case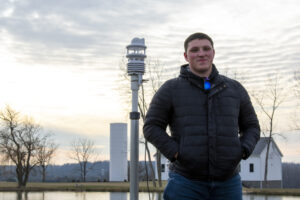 The Lufft WS800 Multi-Parameter Weather Station measures a full suite of atmospheric parameters that provides all-encompassing data on the local environment, including a one-of-a-kind lightning detector. This compact, cost-effective sensor simultaneously measures air temperature, humidity, pressure, precipitation, solar radiation, lightning, and wind with an integrated electronic compass. An internal fan and heater reduce the effects of external influences for accurate measurements during long-term deployments. The sensor can be easily mounted on a 2-inch diameter pipe above any local obstructions with the included bracket mount, U-bolts, and 10-meter cable. 
 
 Settings for the unit can be adjusted using the latest UMB-ConfigTool.
Read More