Extech PQ2071 1000A True RMS AC Power Clamp Meter
The Extech multifunctional PQ2071 Power Clamp Meter operates as a true RMS clamp meter, power meter, multimeter, and AC voltage detector.
Features
Frequency measurement to 200Hz
USB interface for connection to a PC for datalogging function with included software
Manually store/recall up to 99 data sets
Fondriest Exclusives
Free ground shipping
Expedited repair and warranty service
Lifetime technical support
The P2071 measures AC current, frequency, temperature (Type K), and power, including true power, apparent power, reactive power, and active power. It also includes a built-in non-contact voltage detector with LED alert. The USB PC interface offers storage and manual recall of up to 99 data sets.
True Power Range: 750kW
True Power Maximum Resolution: 10W
True Power Basic Accuracy: ±3%
Apparent Power Range: 750kVA
Apparent Power Maximum Resolution: 10kVA
Apparent Power Basic Accuracy: ±3%
Reactive Power Range: 750kVAR
Reactive Power Maximum Resolution: 10VAR
Reactive Power Basic Accuracy: ±4%
Active Power Range: 9999kWh
Active Power Maximum Resolution: 0.001
Active Power Basic Accuracy: ±3%
Power Factor Range: 0.3 to 1
Power Factor Maximum Resolution: 0.001
Power Factor Basic Accuracy: ±0.02
Phase Angle Range: -180 to 180°
Phase Angle Maximum Resolution: 1°
Phase Angle Basic Accuracy: ±2°
AC Current Range: 1000A
AC Current Maximum Resolution: 100mA
AC Current Basic Accuracy: ±2%
AC Voltage Range: 750V
AC Voltage Maximum Resolution: 0.1V
AC Voltage Basic Accuracy: ±1.2%
Frequency Range: 50Hz to 200Hz
Frequency Maximum Resolution: 1Hz
Dimensions/Weight: 11.5 x 3.75 x 1.5" (292 x 95 x 38mm) / 18.4oz (522g)
(1) Meter
(4) Color-coded leads with alligator clips
(1) USB cable
(1) PC software
(1) 9V battery
(1) Soft case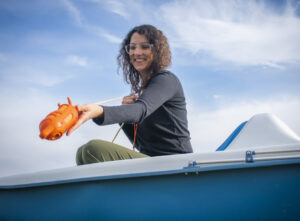 The Sontek CastAway-CTD is a castable device that measures conductivity, temperature and depth. The instrument has been used in the field for over a decade by oceanographers, limnologists, divers, fishers and educators. There have been few changes since the first iteration in 2010, showing that the instrument is durable and accurate without requiring new models. 
 
 The CastAway is the first conductivity, temperature and depth (CTD) instrument of its kind. While other CTDs are large and cumbersome to deploy, with cages and isolated sensors, the CastAway is a small, lightweight and easy-to-use instrument. Typical CTDs utilize pumps to ensure water flows over the sensors during deployment.
Read More