Extech PRC Current Calibrator and Meter
The PRC Current Calibrator and Meter is a precision source for calibrating process devices.
Features
0 to 24mA (-25 to 125%)
Standard banana I/O ports
Large battery bank for extended work cycle
Fondriest Exclusives
Free ground shipping
Expedited repair and warranty service
Lifetime technical support
The Extech PRC meter contains up to five user adjustable calibration presets. The large batter bank and external power adapter provide lasting power to the instrument for extended work cycles. The palm-sized double molded housing and large dot-matrix backlit LCD make for ease-of-use of the meter. The model PRC10 features a 24V DC power source for 2-wire current loop, while the model PRC15 features a 0 to 20V DC calibration source.
Applications for the process devices calibration and simulation include transducers, transmitters, indicators, controllers, and recorders. Also handy for field tests and services, as well as bench research and development.
Source range: Output 0 to 24mA current for loads up to 1000 ohms (-25% to 125%); Output 0 to 20V (PRC15 only)
Measure range: 0 to 50mA current signal (-25 to 230%); 0 to 19.99V (PRC15 only)
Power/measure range: Provides power (24VDC) to loop & measures current (PRC10 only)
Input/output range and displays/ resolution: 0 to 19.99mA/0.01mA, 0 to 24.0mA/0.1mA, 0 to 1999mV/1mV, 0 to 20.00V/10mV
Accuracy range: 0.01% ±1 digit
Meter dimensions: 6.3" x 3.2" x 1.7" (159 x 80 x 44mm)
Meter weight: 8.2oz (232g) - not including battery weight
(1) Meter
(1) Test leads
(1) Alligator clips
(1) 100V-240V AC universal adaptor with 4 plugs
(6) 1.5 AA batteries
(1) Hard carrying case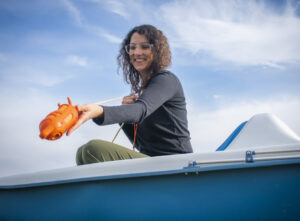 The Sontek CastAway-CTD is a castable device that measures conductivity, temperature and depth. The instrument has been used in the field for over a decade by oceanographers, limnologists, divers, fishers and educators. There have been few changes since the first iteration in 2010, showing that the instrument is durable and accurate without requiring new models. 
 
 The CastAway is the first conductivity, temperature and depth (CTD) instrument of its kind. While other CTDs are large and cumbersome to deploy, with cages and isolated sensors, the CastAway is a small, lightweight and easy-to-use instrument. Typical CTDs utilize pumps to ensure water flows over the sensors during deployment.
Read More