Extech RH25 Heat Index Psychrometer
The Extech RH25 easily monitors heat index during hot humid days.
Features
User programmable heat index/WBGT alarm
Built-in multiparameter sensor
Convenient pocket size
Fondriest Exclusives
Expedited repair and warranty service
Lifetime technical support
The Extech RH25 Heat Index Psychrometer features a built-in multiparameter sensor that measures heat index, wet bulb global temperature, humidity, ambient temperature, temperature, dew point, and wet bulb. Heat index measures how hot it feels when humidity is combined with temperature, air movement, and radiant heat. WBGT considers the effects of temperature, humidity, and direct or radiant sunlight. The pen-sized design makes it convenient to fit in your pocket.
Temperature Range: -4 to 122°F (-20 to 50°C)
Temperature Resolution: 0.1°F/C
Temperature Basic Accuracy: ±1°F/0.6°C
Relative Humidity Range: 0 to 99.9%RH
Relative Humidity Resolution: 0.1%RH
Relative Humidity Basic Accuracy: ±3%RH
Wet Bulb Range: -4 to 122°F (-20 to 50°C)
Wet Bulb Resolution: 0.1°F/°C
Dew Point Range: -108.4 to 122°F (-78 to 50°C)
Dew Point Resolution: 0.1°F/°C
Heat Index Range: -50.8 to 401°F (-46 to 205°C)
Heat Index Resolution: 0.1°F/°C
WBGT Range: -13 to 130°F (-25 to 54.5°C)
WBGT Resolution: 0.1°F/°C
Dimensions: 5.5x1.4x0.7" (140x35x18mm)
Weight: 1.8oz (50g)
(1) Psychrometer
(1) CR2032 battery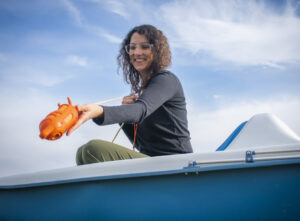 The Sontek CastAway-CTD is a castable device that measures conductivity, temperature and depth. The instrument has been used in the field for over a decade by oceanographers, limnologists, divers, fishers and educators. There have been few changes since the first iteration in 2010, showing that the instrument is durable and accurate without requiring new models. 
 
 The CastAway is the first conductivity, temperature and depth (CTD) instrument of its kind. While other CTDs are large and cumbersome to deploy, with cages and isolated sensors, the CastAway is a small, lightweight and easy-to-use instrument. Typical CTDs utilize pumps to ensure water flows over the sensors during deployment.
Read More