Geotech ET Portable Water Level Meters
The Geotech ET Portable Water Level Meters are designed to provide reliable and accurate measurements of groundwater levels.
Features
Highly accurate Polyethylene coated steel well tape marked in engineering or metric increments
Field serviceable 5/8" probe or optional 3/8" non-field replaceable probe
Adjustable sensitivity to prevent false triggering
Stock
Drop Ships From

Manufacturer
Fondriest Exclusives
Free ground shipping
Expedited repair and warranty service
Lifetime technical support
The Geotech ET Water Level Meter is a portable instrument used to accurately measure water levels in monitoring wells. The well tape is mounted on an extremely durable polypropylene storage reel with rugged aluminum frame. The polyethylene-coated engineer's tape is accurate to 1/100th of a foot.

The sensor consists of a stainless steel and FEP probe, and it relies on fluid conductivity to determine the presence of water. When the instrument contacts water, an audible signal and visible green light activate. The well tape also features adjustable sensitivity, which is used to prevent false triggering.
Questions & Answers
Can I use a mild detergent to clean my water level meter?
The water level meter can be cleaned with any detergent such as trisodium phosphate (TSP), Alconox, or Luquinox. If other detergents are used, take care to select detergents that are compatible with Teflon®, polypropylene, and stainless steel The reel should not be submerged in any liquid, but may be cleaned with a damp cloth. If the probe becomes covered with slit or mud, it may be cleaned with detergent and a soft bristle brush.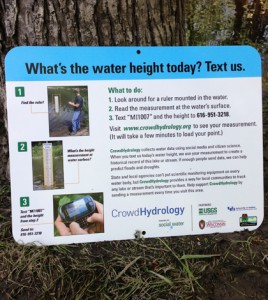 Chris Lowry's idea was simple: set up staff gauges on local streams and leave a sign requesting passersby read the water level and text the data to a phone number. Data from text messages would be recorded and then posted to a website for public use. 
 It was the beginning of CrowdHydrology, a crowdsourcing project that recently gained U.S. Geological Survey support for expansion into several Midwest states. Though it won't generate as much data as official USGS stream gauges, the project will generate data points that supplement those lost from official gauges shut down following federal budget cuts. 
 Lowry, an assistant professor of geology at the University at Buffalo, set up eight pilot sites in New York in 2011 in an attempt to crowdsource water level data.
Read More