Geotech Geocontrol PRO Bladder Pump Kits
The Geocontrol PRO Pump Kit includes all the necessary components for quick and easy portable groundwater sampling.
Features
Built-in high performance air compressor allows sampling from depths up to 200'
Operates from a 12VDC portable rechargeable battery (battery & charger included)
Push/pull tubing fitting for fast and easy tubing changes in the field
Stock
Drop Ships From

Manufacturer
Fondriest Exclusives
Free ground shipping
Expedited repair and warranty service
Lifetime technical support
The Geocontrol PRO is a compact and portable controller, weighing less than 8 lbs. It will control all portable bladder pumps, dedicated bladder pumps, and most air lift pumps on the market today, operating from a rechargeable 12 VDC battery.

The ultra-reliable mini-compressor inside allows the user to sample from depths to 200', saving you time and money from using a separate air compressor. The Geocontrol PRO features a push/pull tubing fitting for easy tubing changes, and Polyethylene or FEP tubing is available per foot.

Geotech's portable bladder pumps were designed with input from field technicians who actually do the sampling. Single-turn release heads and quick-change bladders have been incorporated for quick in the field bladder changes and easy decontamination. Custom hose barbs allow the pump to be suspended without the need for tubing clamps.
(1) Geocontrol PRO controller with mini-compressor
(1) Portable bladder pump
(1) DC power cord
(1) Rechargeable 12 VDC battery
(1) Battery charger
(1) Spare parts kit
(1) Portable carrying case
(1) Operations manual
Questions & Answers
What is the operating pressure?
The operating pressure is 100 psi.
What is the discharge time?
The discharge time is the time it takes to squeeze the bladder and push the water out of the pump. Larger bladder pumps and increased depth should have a longer discharge time. Shallower depths and smaller bladder pumps can operate with a shorter discharge time. Timer can be set from approximately 2 to 60 seconds. Fill time should also be considered with bladder size and depth.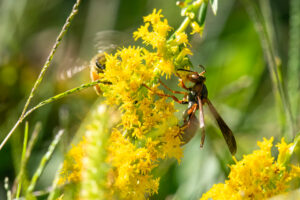 Pollinators of all shapes and sizes are vital to ecosystems around the world. From the wide array of food people eat to the diversity of life around the planet, life would be very different without them. Pollinators are organisms that help carry pollen from one plant to another, and over 350,000 species can be found worldwide, according to The California Department of Fish and Wildlife . With the strong relationship between plants and pollinators, losing either would have detrimental impacts on ecosystems. 
 
 Over millions of years, both plants and pollinators have evolved alongside each other and formed unique adaptations that allow them to work together, expediting and enhancing the process of pollination.
Read More