Geotech Orange A-Frame Hand Reel
The Geotech orange A-frame plastic hand reel is designed for use with the Geosquirt, GeoSub, and other submersible pumps.
Stock
Drop Ships From

Manufacturer
Fondriest Exclusives
Expedited repair and warranty service
Lifetime technical support
The Geotech Hand Reel system allows you to easily transport your water sampling systems in the field. The system is designed for pump and motor lead only as well as shallow bladder pump systems.
Materials: Plastic
Dimensions: 9" x 10.75" x 13.25"
Flange: 10"
Hub Diameter: 3.25"
Weight: 2 lbs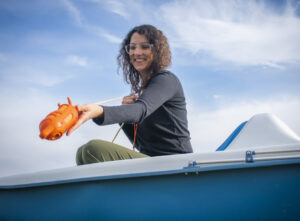 The Sontek CastAway-CTD is a castable device that measures conductivity, temperature and depth. The instrument has been used in the field for over a decade by oceanographers, limnologists, divers, fishers and educators. There have been few changes since the first iteration in 2010, showing that the instrument is durable and accurate without requiring new models. 
 
 The CastAway is the first conductivity, temperature and depth (CTD) instrument of its kind. While other CTDs are large and cumbersome to deploy, with cages and isolated sensors, the CastAway is a small, lightweight and easy-to-use instrument. Typical CTDs utilize pumps to ensure water flows over the sensors during deployment.
Read More