Global Water EZ100 LCD Sensor Display
Global Water's EZ Display features a large LCD readout that can be configured to display 4-20mA electronic sensor output values in any engineering units
Features
Seamless interface with 4-20mA electronic sensors
Can be used for both portable and permanent installations
Rugged, weatherproof enclosure
Fondriest Exclusives
Free ground shipping
Expedited repair and warranty service
Lifetime technical support
Global Water's EZ100 Display features a large LCD readout that can be configured to display 4-20mA electronic sensor output values in any engineering units. The portable display is housed in a rugged, weatherproof enclosure that can be either handheld or wall mounted.
Questions & Answers
Is the LCD Sensor display waterproof?
No, the EZ100 LCD Sensor Display is only water resistant, not waterproof.
How is the LCD Sensor Display powered?
The EZ100 sensor display has two power options. The display comes with two 9V lithium batteries that should be replaced annually. It can also be connected to an external power source that provides 12 VDC to 36 VDC for continuous power.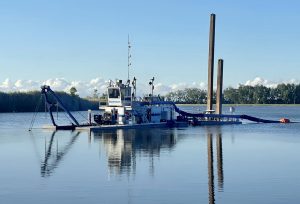 Though dredging is often painted in a negative light, dredging initiatives and projects are often conducted to improve environments, begin recovery periods for water beds contaminated with toxins, and reinvigorate ecological systems and habitats. Many of the technicians and engineers who plan and execute dredging projects are dedicated to balancing the economic benefits of dredging with protecting the environment. 
 
 Sevenson Environmental Services Inc. provides sediment remediation as one of many key services offered to help restore natural environments. Steven Shaw spent more than a decade working as an engineer on various dredging projects before finding his way to Sevenson eight years ago.
Read More