The Global Water Flow Probes are an accurate water velocity instrument for measuring flows in open channels and partially filled pipes.
Features
Used to measure flows in open channels & partially filled pipes
Consists of a turbo propeller type sensor on an extendable handle
Incorporates velocity averaging & is ideal for many environmental applications
Fondriest Exclusives
Free ground shipping
Expedited repair and warranty service
Lifetime technical support
Overview
The Global Water Flow Probe is an accurate water velocity instrument for measuring flows in open channels and partially filled pipes. The water velocity probe consists of a protected water propeller with a positive displacement sensor coupled with an expandable probe handle ending in a digital readout display. The water flow meter incorporates true velocity averaging for accurate flow measurements.
Swivel Head Option
The Flow Probe is ideal for stormwater runoff studies, sewer flow measurements, measuring flows in rivers and streams, and monitoring water velocity in ditches and canals. The Flow Probe Swivel Head option allows rotation of the flow probe's turbo-prop up to + 90 degrees from its standard position. This option lets the flow probe take water velocity measurements in hard-to-measure areas such as vertical pipes on water tanks or swimming pool drainage systems.

Turbo-Prop Propeller Sensor
Uses the most accurate positive displacement technique available for velocity sensing. The Turbo-Prop is designed to shed debris and is protected inside a 2" diameter housing. The probe housing may be placed directly on the bottom of a pipe or stream bed for measuring low flows down to 2" in depth. The flow meter propeller rotates freely on its bearing shaft with no mechanical interconnections for minimal friction. Magnetic material in the propeller tip passes a pickup point in the water velocity meter handle producing electrical impulses that are carried to the readout display by an internal cable. The Turbo-Prop is easily removed for cleaning or replacement.
Automatic Conversion
The water velocity computer receives an electrical signal from the propeller, amplifies the signal, and converts the reading to feet per second (or meters per second, depending on programming). The large LCD screen displays average, minimum, and maximum water velocity readings. Up to 30 sets of time and date stamped data points can be stored in the computer with the push of a button. These data points can be reviewed on the computer screen for later analysis. The water velocity computer has a water-resistant housing and incorporates a unique four-button operation for changing functions and resetting the display. The water velocity computer is powered by a non-replaceable battery that will last approximately five years with normal use. Low battery and end of data warnings will also display as appropriate.
Range: 0.3-19.9 FPS (0.1-6.1 MPS)
Accuracy: 0.1 FPS
Averaging: True digital running average. Updated once per second.
Display: LCD, Glare and UV Protected
Control: 4 button
Data Logger: 30 time and date stamped data sets
Power: Internal Lithium Battery, Approx 5 year life, Non-Replaceable
Operating Temperature: -4 to 158 F (-20 to 70 C)
Storage Temperature: -22 to 176 F (-30 to 80 C)
Carrying Case: The Flow Probe is shipped in a padded carrying case
Approvals: CE
(1) Flow probe
(1) Carrying case
Questions & Answers
How durable is the probe computer?
The flow probe computer is self-contained and sealed in a water and shock resistant housing. Additionally, the computer is designed to float in water.
What kind of battery does this flow probe take?
The Global Water Flow Probe's internal lithium battery is not replacable. With normal use, it should last approximately 5 years.
Does the probe have any energy-saving features?
After 5 minutes without user input or propeller motion, the probe will enter a low power mode to conserve battery life.
Will the computer calculate the flow in ft3/s or m3/s?
No, the flow probe only calculates average, minimum and maximum velocity. The user can manually determine flow rate by multiplying the area of the cross-section of water by the average velocity.
What is the diameter of the display head?
The display head is 3" in diameter and roughly 3" high.
How do I turn off the display?
The display does not turn off. Instead, it enters a low power mode after 5 minutes.
The Global Water flow meter computer is not giving any readings, but the propeller is spinning. Can this be fixed?
If the computer is turning on when any button is pressed, make sure to reset the computer before starting the next measurement. If the computer does not turn on when attempting to reset, the battery may have died and the computer should be replaced (part # BA2000).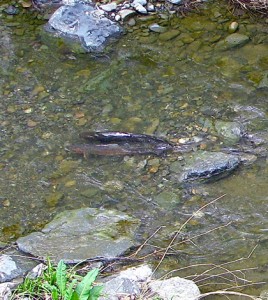 The Water Withdrawal Assessment Tool (WWAT), developed by the Michigan Department of Environmental Quality, is an important tool for predicting the impacts of withdrawing water to streams. It is used throughout the state by environmental organizations concerned with stream health for a variety of reasons. 
 
The Michigan chapter of Trout Unlimited is one example of an organization that uses the WWAT in its work to help the state's coldwater fisheries and watersheds. But since the assessment tool provides only an estimate of what base flows are, it's important for volunteers with the organization to test and verify actual measurements from the field before making management decisions.
Read More