Hach DR3900 Laboratory VIS Spectrophotometer
The Hach DR 3900 is a benchtop visible spectrum, split beam spectrophotometer for laboratory water analysis.
Features
Simple Preparation with TNTplus® vials
Store hundreds of user-determined methods
Claros™ connectivity
Stock
Drop Ships From

Manufacturer
Fondriest Exclusives
Free ground shipping
Expedited repair and warranty service
Lifetime technical support
Overview
The Hach DR 3900 is a benchtop visible spectrum (320-1100 nm) split beam spectrophotometer with over 220 pre-programmed methods optimized for laboratory water analysis. The DR3900 spectrophotometer is optimized for safe processes and accurate results daily. Control parameters like Ammonium, COD, Phosphate, Nitrate and many others are easy to test.
Simple Preparation
NTplus® vials use Dosicaps - freeze-dried reagents integrated into a sealed cap - that are easier to use than Powder Pillows or Liquid Reagents, without any risk of contamination. The boxes and vials are color-coded for fast and easy parameter and range recognition of the test needed. Step-by-step illustrated test methods are printed on the box as a quick reference and can also be called up in the instrument menu.

Comprehensive Documentation
Measurement results are documented on a detailed level with a timestamp, operator ID, absorbance reading, and calculated concentration. The 2D barcode delivers the lot number and expiry date, logged with every result. For accreditation, the certificate of analysis can be called up just by wiping the reagent box towards the RFID sensor.
Fast Execution
The Hach DR 3900 spectrophotometer automatically reads a 2D barcode on the TNTplus vial to identify the appropriate method and take the measurement. The vial spins to take 10-fold absorbance readings that will be averaged for result determination to exclude scratches and fingerprints. Instrument calibration verification and high instrument stability all combine to eliminate the need to run reagent blanks.

Customizable
With the ability to store hundreds of user-determined methods, operators are able to tailor the DR 3900 to meet the everyday needs of the facility. Optimizing and customizing the method portfolio, combined with regular software updates and Claros™ connectivity, makes the DR3900 the ultimate solution to water quality lab needs.
Beam Height: 10 mm
Data Logger: 2000 measured values (Result, Date, Time, Sample ID, User ID)
Display: 7" TFT
Display Resolution: WVGA (800 pix x 480 pix)
Display Size: 7 inch (17.8 cm)
Display Type: Colored touch-screen
Enclosure Rating: IP30
Interfaces: USB type A, (2)USB type B, Ethernet, RFID module
Light Source: Gas-filled Tungsten (visible)
Manual Languages: English, French (CDN), Spanish (SA), Portuguese (BR),Chinese, Japanese, Korean
Max. operating humidity: 80 %
Max. Storage Humidity: 80 %
Operating Conditions: 10 - 40 °C
Operating Mode: Transmittance (%), Absorbance and Concentration, Scanning
Optical System: Reference beam, spectral
Photometric Accuracy: 5 mAbs @ 0.0 - 0.5 Abs
Photometric Accuracy 2: 1 % at 0.50 - 2.0 Abs
Photometric Linearity: < 0.5 % - 2 Abs
Photometric Linearity 2: ≤ 0.01 % at >2 Abs with neutral glass at 546 nm
Photometric Measuring Range: ± 3.0 Abs (wavelength range 340 - 900 nm)
Power Requirements: With external power supply
Power Requirements (Hz): 50/60 Hz
Power Requirements (Voltage): 110 - 240 V AC
Power Supply: Benchtop Power Supply
Preprogrammed Methods: > 240
Region: US
Sample Cell Compatibility: Rectangular: 10, 20, 30, 50 mm, 1 inch; round: 13 mm, 16 mm, 1 inch
Scanning Speed: > 8 nm/S (in steps of 1 nm)
Source Lamp: Gas-filled Tungsten (visible)
Specific Technology: RFID for easy method update, sample ID and Certificate of Analysis
Spectral Bandwidth: 5 nm ± 1 nm
Standard accessories: None
Storage Conditions: -30 - 60 °C
Stray Light: < 0.1 % T at 340 nm with NaNO2
User Interface Languages: Bulgarian, Chinese, Croatian, Czech, Danish, Dutch, English, Finnish, French, German, Greek, Hungarian, Italian, Japanese, Korean, Polish, Portuguese - Brasilian, Potuguese, Russian, Serbian, Slovakian, Slowenian, Spanish, Swedish, Turkish
User Programs: 100
Warranty: 12 months
Wavelength Accuracy: ± 1.5 nm (wavelength range 340 - 900 nm)
Wavelength Calibration: Automatic
Wavelength Range: 320 - 1100 nm
Wavelength Reproducibility: ± 0.1 nm
Wavelength Resolution: 1 nm
Wavelength Selection: Automatic, based on method selection
Weight: 4.2 kg
(1) DR3900 Spectrophotometer
(1) Adapter A for 1 in. round and 1 cm square cells
(1) Matched pair of 1 in. square glass sample cells
(1) Light shield
(1) Dust cover
(1) Printed basic user manual
(1) Benchtop power supply with 115 and 230V power cords
Questions & Answers
What is the procedure for phosphate testing using the high range reactive phosphate 0 - 100mg/l reagent set (SKU 2767345)?
The Hach DR3900 can measure high-range phosphates in water samples using the reagent set and the Molybdovanadate Test 'N Tube™ Method (Hach Method 8114), found in the documents tab on the reagent product page.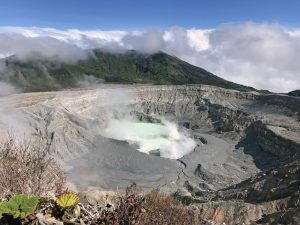 To get an idea of what life would be like on Mars, you don't need to travel millions of miles away--instead, you could go to Costa Rica and visit the Poás Volcano and its crater lake, Laguna Caliente. 
 
 "Collectively, the suite of alteration minerals at Poás crater and identified across Mars at relict hydrothermal sites shows strong correlation, indicating the high temperature and highly acidic geochemical processes occurring at Poás are quite relevant to understanding past hydrothermal processes on Mars," says Justin Wang, a graduate student at the University of Colorado, Boulder. He is currently conducting research at the Laboratory for Atmospheric and Space Physics alongside his advisor, Brian Hynek. Wang is currently a master's student in aerospace engineering.
Read More