Hach Nickel TNTplus plus Vial Test
For determination of Nickel by the Dimethylglyoxime Method. Add Metals Prep Set (TNT890) to determine total nickel (requires digestion).
Features
Easy and safe handling
No reagent blank necessary
Automatic method detection
Stock
Drop Ships From

Manufacturer
Fondriest Exclusives
Expedited repair and warranty service
Lifetime technical support
Nickel TNTplus chemistry and your Hach spectrophotometer are engineered to simplify water analysis for accurate results, everytime.
For determination of Nickel by the Dimethylglyoxime Method. Add Metals Prep Set (TNT890) to determine total nickel (requires digesti
EPA compliant: 

N/A

Instrument: 

DR3900, DR6000, DR1900, DR2800, DR3800, DR5000

Method: 

10220

Method Name: 

Dimethylglyoxime

Number of tests: 

25

Parameter: 

Nickel

Platform: 

TNT plus™

Range: 

0.1 - 6.0 mg/L Ni

Shelf Life: 

24 months from production date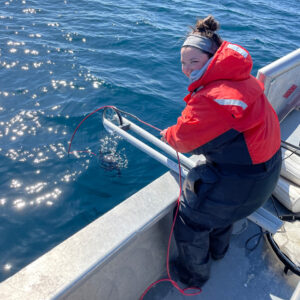 From crystal clear alpine lakes to muddy rivers and boggy swamps, water transparency is an easily observable water quality parameter to anyone who takes a few moments to peer into the (sometimes) murky depths. Water transparency varies dramatically based on the location of bodies of water among different watershed environments, but it can also change quickly due to a variety of internal and external factors. 
 
 At Miami University (OH), the Global Change Limnology Lab explores the many ways that water transparency impacts aquatic ecosystems. Operational for nearly 20 years, the lab trains undergraduate and graduate students and has conducted work from the midwest Great Lakes to Alaska, South America and New Zealand. 
 
 The Global Change Limnology Lab, headed by Dr.
Read More