Hach FF-1A Freshwater Aquaculture Test Kit
This kit utilizes drop count titration and color disc methods to deliver the fast, accurate results for fish production.
Features
Clear instructions for measuring common aquaculture/fish farming parameters
Simple, accurate methods
Includes convenient carrying case for portability
Stock
Drop Ships From

Manufacturer
Fondriest Exclusives
Free ground shipping
Expedited repair and warranty service
Lifetime technical support
Maintaining good water quality is essential for profitable fish production. In many cases, availability and cost of "crop" insurance is directly related to testing programs. This kit utilizes drop count titration and color disc methods to deliver the fast, accurate results you need.
Titration Methods:
Alkalinity (0–100, 0–400 mg/L CaCO3)
Carbon dioxide (0–100 mg/L CO2)
Chloride (0–150, 0–600 mg/L Cl–)
Dissolved oxygen (0–4, 0–20 mg/L O2)
Hardness, total (0–342 mg/L CaCO3)
Color Disk Methods:
Ammonia (0–3.0 NH3–N)
Nitrite (0–0.4 mg/L NO2–N)
pH (4–10 pH units)
Observation Method:
Supersaturation: (Qualitative)
Includes seventeen reagents, one measuring tube, clippers, one color comparator box, one BOD bottle, one mixing bottle, one dropper, two plastic tubes, three color discs, one thermometer, instructions, and a carrying case.
Questions & Answers
Do you offer a reagent refill kit?
We do not offer a refill kit, however, refill reagents are available individually under the Accessories tab.
What are the 9 basic water quality parameters that can be measured by this kit?
The Hach Freshwater Aquaculture test kit measures for ammonia, nitrite, pH, temperature, alkalinity, carbon dioxide, chloride, dissolved oxygen and hardness.
When testing for Ammonia, my sample has a slight yellow color. Is my sample contaminated?
No, the Nessler reagent gives even pure water a slight yellow color. This small color is negligible unless measuring a small amount of Ammonia. When measuring a small amount, add 3 drops of reagent to 5mL of ammonia-free water to use instead of the untreated sample in the left top opening.
When testing for carbon dioxide, what is the ratio between carbon dioxide and Sodium Hydroxide drops?
Each drop of Sodium Hydroxide Standard Solution is equivalent to 5mg/L of Carbon Dioxide.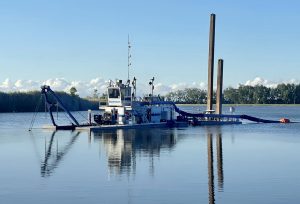 Though dredging is often painted in a negative light, dredging initiatives and projects are often conducted to improve environments, begin recovery periods for water beds contaminated with toxins, and reinvigorate ecological systems and habitats. Many of the technicians and engineers who plan and execute dredging projects are dedicated to balancing the economic benefits of dredging with protecting the environment. 
 
 Sevenson Environmental Services Inc. provides sediment remediation as one of many key services offered to help restore natural environments. Steven Shaw spent more than a decade working as an engineer on various dredging projects before finding his way to Sevenson eight years ago.
Read More