Hach Intellical PHC101 Field Gel Filled pH Electrodes
Intellical PHC101 is a digital combination pH electrode with built-in temperature sensor. 
Features
Stainless steel body, polymer sensor shroud, and reinforced, steel-sheathed cables
Probes can be moved between meters without the need to re-calibrate or re-enter measurement settings
IntelliCAL rugged digital probes are waterproof up to 30 meters (IP67 rating)
Stock
Drop Ships From

Manufacturer
Fondriest Exclusives
Free ground shipping
Expedited repair and warranty service
Lifetime technical support
Intellical PHC101 is a digital combination pH electrode with built-in temperature sensor. PHC101 has low maintenance needs thanks to a non-refillable gel-filled single open reference junction. This Rugged PHC101 version is built with a stainless steel body ensuring sufficient weight to the probe for an easy outside handling, the pH sensing part is protected by a shroud, and the connection is ensured by strong and visible yellow coloured cable onto which you can clip depth markers (optional accessories), making the PHC101 rugged models specially designed for field use.
PHC101 Rugged is available with a 5, 10, 15, or 30 meters cable. The PHC101 Rugged is ideal for measuring pH in all types of external environment such as river, surface and ground waters, ponds, lakes, sea, wastewater plant, source water, drinking water reservoir for water quality, environmental and treatment process purposes.
Application: 
Clean & Dirty Samples
Cable Length: 
5 m (16.40 ft)
Electrode Type: 
Non-Refillable Gel Reference Element
Length:
223 mm (8.73 in.)
Method Type: 
Field: Non-Refillable Gel Reference Element
Product Kit: 
Model: PHC101
Accessories Included: None
Resolution: 
0.001/0.01/0.1
Sample depth:
20 mm (0.79 in.)
Sensor material:
Zeonor™/ Stainless Steel
Sodium (Alkalinity) error: 
-0.6 pH at pH 12.6 in 1 M NaOH
Special Features: 
Double junction reference
Temperature Accuracy: 
±0.3 °C (±0.54 °F)
Temperature Range: 
0 - 50 °C (32 - 122 °F)
Temperature Resolution:
0.1 °C (0.18 °F)
Test requirements: Parameter Needed: pH
Minimum Sample Depth (mm): 20
Water Resistance:
IP67, waterproof for 24 hours at a depth of 30 meters
What's included?: 
IntelliCAL PHC101 Rugged pH electrode with storage cap, 5 m cable, Test certificate, and Basic User Manual.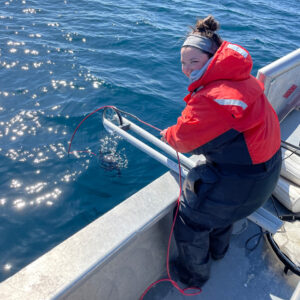 From crystal clear alpine lakes to muddy rivers and boggy swamps, water transparency is an easily observable water quality parameter to anyone who takes a few moments to peer into the (sometimes) murky depths. Water transparency varies dramatically based on the location of bodies of water among different watershed environments, but it can also change quickly due to a variety of internal and external factors. 
 
 At Miami University (OH), the Global Change Limnology Lab explores the many ways that water transparency impacts aquatic ecosystems. Operational for nearly 20 years, the lab trains undergraduate and graduate students and has conducted work from the midwest Great Lakes to Alaska, South America and New Zealand. 
 
 The Global Change Limnology Lab, headed by Dr.
Read More